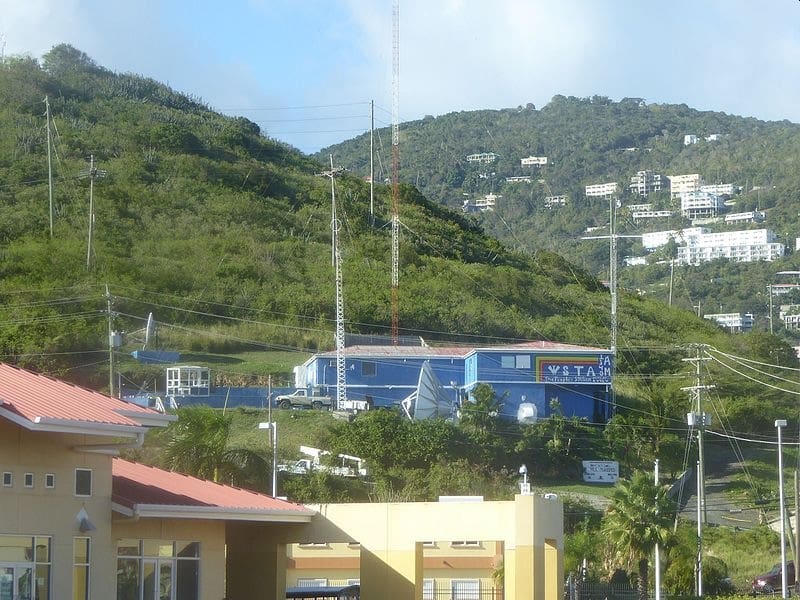 Jean P. Greaux Jr., renowned broadcaster and journalist who served the Virgin Islands community for more than three decades, died on Tuesday near his home, V.I. Police Department officials said.
According to a statement issued by VIPD, Greaux was found unresponsive in his vehicle around 5:23 p.m., with a single gunshot wound to the upper body, as reported to 911 by a concerned citizen. The official cause of death is still under investigation. He was 52 years old.
According to his colleagues, Greaux laid the foundation for responsible community reporting and set the standard as a broadcast engineer, communications professional, and a welcome voice on the local airwaves, reading the 5 p.m. news on WSTA and later on Radio 1000. Sadly, he recently recalled those days while mourning the passing of another colleague, Anita Davis-Sedlack, whom he described as a "trailblazer."
Along with serving briefly as a spokesperson for the V.I. Police Department, Greaux's work earned him the title of Communications Director under former Gov. John P. de Jongh Jr. – a role that had him managing the public relations of all government departments and agencies.
In between and after, he was often seen: with a smile on the Cool Session Brass truck during J'ouvert; collecting data for his morning weather reports or contributing news stories to local outlets, among them the Source. Most recently, he was the Communications Director for the V.I. Water and Power Authority.
"We are all shocked and devastated by the news of Jean's passing," Gov. Albert Bryan Jr. said in a statement Tuesday. "He was a consummate professional and dedicated public servant. We ask that the community join us in granting his family, friends, and many colleagues some respect and privacy and extend our prayers to them during this difficult time."
In a statement issued early Wednesday on behalf of the WAPA governing board, Chairman Kyle Fleming remembered Greaux as "an unforgettable voice."
"Communication is an art that Jean showcased across multiple disciplines and industries. This versatility is a testament to his dedication to keeping his community adequately informed. Our sincerest condolences go out to Jean's family and loved ones as we will surely keep them in our prayers during these trying times," said Fleming.  
As word of this loss has traveled, more and more Virgin Islander have begun offering their condolences. The Source will expand and update this story to accommodate.
Lt. Gov. Tregenza Roach wrote that he joins "a deeply saddened Virgin Islands community in extending condolences to the family, friends, and loved ones of Jean P. Greaux, Jr. I write this with a heavy heart as his passing is a tremendous loss for the territory."
Roach said, "My connection with Greaux began in my early days as a journalist. He was the embodiment of an outstanding communications professional. His work ethic, skill sets, and experience demonstrated a standard of excellence that was the blueprint for the field of journalism and communications. I admired his ability to research and the quality of his presentations.
I watched him grow into his career at Government House as Communications Director and at other governmental agencies. Greaux distinguished himself as a consummate professional, committed to serving others. He was always willing to help and never hesitated to do so.
Most recently he assisted me with a WAPA customer service issue in helping a family move into their home for Thanksgiving. His diligent effort and steadfastness were a testament of his character. His passion for making a difference was evident in all of his endeavors. His last text to me in his own words were,'Pleased to assist. Call me anytime.'
Greaux's distinct voice and influential presence will undoubtedly be remembered. He leaves a legacy of distinguished public service, and a profound impact on the U.S. Virgin Islands. May he rest in eternal peace."
Acting WAPA CEO Noel Hodge said, "The Virgin Islands Water and Power Authority profoundly regrets the passing of Mr. Greaux who was an important and valued member of our management team for almost 7 years. He will be deeply missed. We are requesting that the community join us in prayer for the family and our coworkers during this difficult time."
Senate President Donna Frett-Gregory said, "The passing of Jean Greaux left me with a heavy heart. These past few years has been challenging for all of us.Let's commit to check on our family friends, and neighbors. I will miss our talks and his wise counsel. He was my friend and confidant. The Virgin Islands has lost a brilliant mind and one of the best in his field. Condolences to his entire family circle. He will be sorely missed."