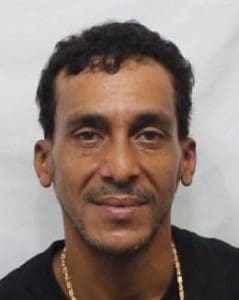 The V.I. Police Department is asking for the St. Croix community's assistance in locating 49-year-old Johnny "Kountry" Encarnacion, who was reported missing.
Encarnacion is a Hispanic male, 5 feet 10 inches tall, and weighing 160 pounds, according to VIPD Public Information Officer Toby Derima. He has black hair and brown eyes, with a brown complexion. Encarnacion has tattoos on his chest, left shoulder, and right shoulder, and scars on his face and nose. He also wears a gold rope chain with a pendant.
Encarnacion frequents the Alphonso "Piggy" Gerard Complex (Bassin Triangle apartments), the D. Hamilton Jackson Terrace (also known as Redbrick), downtown Christiansted, and Estate Peter's Rest, Derima said.
He was last seen on Monday, Nov. 15 at the Piggy Gerard Complex, operating an off-black Dodge pickup truck with a missing a right passenger door mirror, a missing right rear passenger tail light, and a dent from the left tail light to the left rear wheel well.
Family members said that Encarnacion does not suffer from any mental health issues, said Derima.
If you have seen Encarnacion, or know of his whereabouts, VIPD asks that you please call 911, the Criminal Investigation Bureau at 340-778-2211, or Crime Stoppers USVI at 800- 222-TIPS (8477).