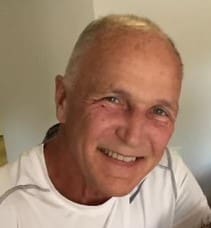 Elliott McIver Davis, a true Virgin Islander, known by most as "Mac," who adored and was adored by his family, friends and the St. Thomas community, died on Sept. 11 in Falls Church, Va. He was 70.
Mac was born in Savannah, Ga., to Joseph Olin Davis and Elizabeth McIver Davis. His life truly blossomed; however, when he moved to St. Thomas with his parents and siblings, Jody and Cameron, at the age of 10, other than some stateside residencies for schooling, he never lived elsewhere and never planned to do so.
He loved his island upbringing and made lifelong friends, such as Leslie Friedman, Jeni Smith and Gregory Kirchoff at an early age. He was a student in the founding class at Antilles School, and he still called many of his classmates friends until the day he died.
After spending his senior year there, Mac graduated from Savannah Country Day School and went on to earn his bachelor's degree from Virginia Wesleyan University. He always returned to his island home for breaks and during one in the summer of 1976, he met the love of his life, Debbie.
He never grew tired of telling his kids and friends about his early interest in her. Mac saw Debbie driving around the island in her father's convertible and thought to himself, "I need to meet her." He eventually did when she was home for the summer from Tufts University working as a server at Sparky's Waterfront Saloon, and they began dating. They married in Fairchild Park on June 19, 1977.
The couple celebrated their 44th wedding anniversary this past summer. In a recent Facebook post, Mac called Deb his "secret, superweapon against all challenges." She was his "person," as he himself described her.
Early in their marriage, Mac graduated from law school at Howard University in Washington, D.C. A long and distinguished career in the U.S. Virgin Islands government followed. Mac held several positions during his decades of service at the Department of Justice under multiple administrations, including several years as the territory's solicitor general and briefly serving as acting attorney general. Late in his career, he proudly served at Government House as legal counsel to Gov. John de Jongh Jr., who praised Mac's writing prowess in recent local news articles about him.
He eventually loved retirement, having the freedom to spend more time with Deb at their house overlooking Magens Bay, visit his children and grandchildren in Virginia, go to the beach, watch his favorite TV shows and still find ways to serve the local community.
His life on St. Thomas was abundant, and he cherished being an active member of the community. He humbly served on many boards that mattered to him. He was the president of the Board of Trustees at Antilles School – where all three of his children attended – for many years, helping guide the school's course. Mac also served on the Magens Bay Authority for more than a decade until the end of his life, playing an active role in the continued preservation of his favorite place on Earth as well as the board's acquisition and revitalization of Lindqvist Beach, now known officially as Smith Bay Park.
Mac was a proud Rotarian, serving as a member of multiple clubs on St. Thomas across decades. He delighted in bringing his children to Rotary lunches and donating "happy dollars" in their honor, and he was thrilled to watch his oldest son, Joseph, join his local Rotary Club in Leesburg, Va., and serve a tenure as president.
But perhaps his most rewarding time as a Rotarian was when he managed the Rotary Club of St. Thomas II's Person of the Year award. He loved the secrecy involved in the selection process and the look on the winner's face when it was revealed to them. Mac himself was surprised with the award in 2002, but he insisted that giving it was more fun than receiving it.
Service was very important to him, and he gave back to the island in myriad ways beyond Rotary. He volunteered for many United Way Days of Caring on both St. John and St. Thomas. He cooked meals at Bethlehem House. And he rarely missed a Tuesday cooking and serving lunch at the Salvation Army.
He occasionally brought his children to help and taught them to always look the person being served in the eye and say, "Enjoy your lunch!" Much to his chagrin, the St. Thomas Reformed Church always printed his name in its bulletin when he served at the Salvation Army. He told his family that he would rather his volunteer work fly more under the radar. (In fact, he probably would not love all this service being mentioned here. Sorry, Dad.)
Mac's commitment to family and service continued even as he endured the biggest challenge of his life, which began in 1997 when he was diagnosed with kidney cancer. A surgery brought him back to good health, but the cancer returned and metastasized five years later, at which point he was told he likely had only 18 months to live. Despite that dire prognosis, Mac promised his wife and children that he would fight, and he did that for the next 19 years.
Through countless treatments and trips to several stateside hospitals where he grew close with his oncologists, he was a survivor. His family is proud – and he would be too – that he beat cancer after that decades-long battle, as it was not the cause of his passing.
His disease strengthened his desire to serve and persevere. Through a fundraising venture that included his filming a short documentary, Mac raised thousands of dollars toward the construction of the Charlotte Kimelman Cancer Institute on St. Thomas. He also participated in countless Relays for Life, with Debbie by his side. Perhaps most impressively, he became a marathoner. He ran eight marathons – all while he battled cancer – and used the feats to raise money for the American Cancer Society. He was most proud to run the New York City Marathon with his daughter, Elizabeth, four times.
Throughout his time with cancer, Mac focused on life goals that he wanted to experience before he died. Initially, he wanted to live to see all his children graduate from Antilles School. After he did and his fight continued, he always moved the goalposts further. He wanted to see his children graduate from college. Then, it was the desire to see them finish graduate school. Then, he wanted to see them get married. (He officiated Joseph's wedding.) Then, he wanted to be able to meet and hold his grandchildren. He lived and did all those things, and then some.
Mac was able to continue experiencing his joys in life, of which he had many. He loved sitting on his house's west terrace with Debbie and enjoying their view of Magens Bay. He loved Debbie's cooking, and frequently shared photos of her creations with his kids. He loved being at Magens Bay – relaxing and listening to music on the left side of the beach and stand-up paddleboarding in the water. He loved watching the nightly news and "Jeopardy!" with Debbie and his children when they were together.
In his downtime, especially after he retired, he unapologetically loved watching HGTV, PBS' "Masterpiece" shows, the veterinary show "Dr. Pol" and his all-time favorite, "Judge Judy." But he also loved doing projects around the house, from feeding his fish to caring for his many plants and orchids. His dog and shadow, Otis, was always by his side. Mac loved taking Otis to Mandahl Bay and Neltjeberg Bay to swim and roll around in the sand.
Mac also treasured connecting with people, both virtually and in person. He enjoyed posting on Facebook and using the platform to stay in touch with old friends near and far. Late in life, Mac found great joy in coloring and making Vienna cakes with his grandchildren. Being with them and watching them grow nourished his soul.
He was a man who loved his sayings and catchphrases. He had his own version of a popular quote: "Yesterday is history. Tomorrow is mystery. Today is a gift. Make the most of it." After his diagnosis, for years he signed his emails with "press on regardless." And as he extended his lease on life and continued to experience milestones and those of his loved ones, he always ended his Facebook posts with, "And to think I might have missed this …"
Our family is devastated to think of all that he is now going to miss, but we are grateful for all that he didn't. And we will press on regardless in his honor.
Mac is survived by his wife, Deborah Kreke Davis; children: Joseph Davis, Elizabeth Davis Voigt and Elliott Davis Jr.; son-in-law, Stanley Voigt; daughter-in-law, Erin Davis; grandchildren: Gresham Davis, Clara Voigt, Marilyn Davis and Stella Voigt; sister, Cameron Ellison; brothers-in-law: Danny Ellison and Donald M. Kreke; sister-in-law, Anne Kreke; nieces: Carolyn Ellison and Amanda Kreke Cabrera; nephews: Dylan Ellison, Jordan Kreke, Jesse Davis, Olin Davis and Luke Davis; his beloved dog, Otis; and many dear friends and extended family.
He is preceded in death by his parents: Joseph Olin Davis and Elizabeth McIver Davis; parents-in-law: Joseph M. Kreke and Marilyn Morón Kreke; brother, Joseph Olin Davis Jr.; and brother-in-law, Robert M. Kreke.
A memorial service will be held at Mac's happy place, Magens Bay, on the sand in front of Shed 4 at 9:30 a.m. on Tuesday, Oct. 19. A reception will be held in Shed 4 immediately following the service. The family requests that all attendees be fully vaccinated against COVID-19 to ensure safety while we celebrate his life.
In lieu of flowers, donations can be made in Mac's name to fund a trail at Magens Bay. You can donate to the Community Foundation of the Virgin Islands online at www.cfvi.co/MacDavis or over the phone at 340-774-6031 on Tuesdays, Wednesdays and Thursdays. Any checks should be made out to CFVI with "In memory of Mac Davis" or "Elliott Mac Davis Fitness Trail" in the memo section and mailed to P.O. Box 380, St. Thomas, VI 00804.
If you would like to learn more about Mac's life, see photos and share a tribute or remembrance, visit his memorial website at: www.mykeeper.com/profile/ElliottMacDavis.