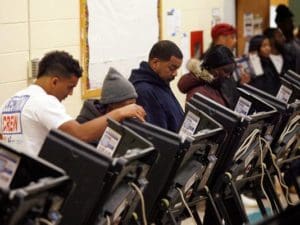 A call to action was requested as the V.I. Board of Elections moved for Chairman Raymond Williams to respond to two letters to the editor written by member Glenn Webster and published in two print publications to, as they put it,  "delegitimize the V.I. elections."
Tensions were high as the board approved in a vote of 5-4 and one non-vote for Williams to address the two letters that were submitted by Webster.
Without discussing specific details as to what the letters said, Williams said, "When I saw the article, I reached out to the membership to get thoughts on how we should approach it. Some members said yes, we should respond while others said we should not respond. I decided not to respond after seeking advice from members of the board and other advisors." Williams said that in one of the letters printed in July the headline references the board's ability to be "objective."
Webster sent one of the letters to the Source, which was published in the Open Forum as his opinion. In it, Webster wrote, "The current single board of elections has been operating devoid of bylaws, rules of governance and other parameters which would legitimize this body politic."
He also said he "miss(ed) the dissident logic of former member Adelbert Bryan" and the "leadership style" of former board chairman Roy Watlington.
But he concluded that in his opinion "we can come together to deliver a fair, transparent election."
Williams said the Board of Elections has had bylaws since 2004 and has updated them as recently as within the past two months.
The territory switched from a system with two district boards and a third joint board, to a single, unitary board, in 2018.
"If you look at it in its value it is a matter of opinion," said Williams. "Generally, it is not the practice or the policy of the organization or the board, rather, for a member to speak independently of the chair. I take that responsibility very seriously because we are all entitled to our thoughts and opinions, but not our own facts."
"This kind of misinformation, especially coming from a member, leads the community to believe that it does not function objectively." Williams said Webster has only attended four meetings from 2019 to the present. "When you are elected to participate in public service no one forces you to be here."
"The board in the last few years has operated as a board objectively, and we have been very transparent. We have collectively worked with Supervisor [Caroline] Fawkes and her staff ensuring that we have a fair and transparent election. It is really disingenuous, to say the least," he continued.
Member Lisa Harris-Moorhead recommended that the Board of Elections start writing their own press releases as to what is discussed and releasing that information to the press.
Member Lydia Hendricks backed up Harris-Moorhead's statement and said, "All of us know that he was lying, and all of us know that he has not been attending meetings," referencing Webster. Hendricks also suggested they invite Webster back to the meetings so that he can see what is going on.
"The public only knows what was written and heard on the radio," said secretary Lilliana Belardo De O'Neal. "I strongly feel that you as the chairman should write something back, publicly addressing the work of the Board of Election and the meetings that we have had. We have been working hard. We need to defend our work and the members of this committee."
In the end, Belardo De O'Neal entered a motion for chairman Williams to respond to Webster's letters and the motion passed. Williams said he will draft a response for the board to review prior to releasing within a few days.
In other action, the committee discussed the closure of polling locations during Fawkes' report. Fawkes recommended that 12 polling locations be closed due to some of their conditions and other reasons.
Williams said, "I totally agree, as we try to migrate from having 20-something polling places, I think we need to dig down further."
He then requested that member Harris-Moorhead assist with this decision after she meets with the V.I. Board of Education, which hosts many polling sites. "I will suggest that you place that in your upcoming agenda. A lot of these schools are not going to be reopening, and we need to do a deeper dive into voting centers. One of the observations we had from the last election is to add maybe one or two voting centers."
Williams said that the board will revisit this action item at their next meeting, scheduled for August, so that they can update the voting community.
Committee members in attendance were Chairman Raymond J. Williams, Vice-Chair Atanya Springette, Secretary Lilliana Belardo De O'Neal, Frederick Espinosa, Lisa Harris-Moorehead, Epiphane Joseph, Lydia Hendricks, Shikima Jones, Harriet A. Mercer, and Alecia M. Wells.