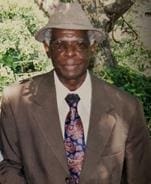 With a deep sense of sorrow and sadness, the family of Mario Elwollis Adams announces his death at his home on St. Thomas on June 13, at the age of 97. He was born in Chalwell, Tortola.
He is survived by his children: Dale Adams and Vickilyn "Candy" Adams Brown; grandchildren: D'Wayne James and Dr. Kayla Brown; great-grandchildren: Dejah James and Darian James; son-in-law, Edwin O. Brown; and sister-in-law, Mayrose Thomas Adams.
Mario was preceded in death, nine months prior, by his wife Doreen Christalia Thomas Adams, after 69 years of marriage; his son, Wayne "Facts Man" Adams; parents: J. Archibald and Ann Elizabeth Adams; sisters; Manulita Adams; Mary Adams Smith, Iris Adams Thomas and Ishmay Adams Edwards; and his brother, Henry Adams.
His surviving siblings are Ivy Adams Creque and Orthlie Adams (wife, Mayrose Adams); and many other relatives and friends.
Mario was a faithful member of Wesley Methodist Church. He was a member of class number 8; he was also a member of the 11 a.m. church choir for 6 years; a member of the Men's Fellowship and the Evangelism Committee. He was a founding member of F.A.T.E., Families Advocating Towards Empowerment, and served as treasurer. He served on the board of Work Able and was also a member of The League of British Virgin Islanders, serving as its treasurer for 14 years.
The first viewing will be held from 3-5 p.m., Thursday, July 15, at Turnbull's Funeral Home and Crematory Services. The second viewing and testimonial tributes will be from 10-11 a.m., Friday, July 16, at Wesley Methodist Church in Anna's Retreat (Tutu), St. Thomas, V.I., with funeral services to follow immediately at 11 a.m.
Booklet tributes can be sent to email address estatenadir20e@verizon.net or ebrown4462@aol.com on or before July 9. Due to the COVID health crisis all attendees must adhere to government guidelines; face coverings must be worn at all gatherings.