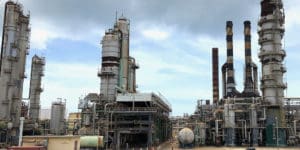 Limetree Bay Refinery's parent company Limetree Bay Energy announced Monday it is "suspending its plans to restart the refinery indefinitely, due to severe financial constraints."
It initially shut down temporarily pursuant to a U.S. Environmental Protection Agency order in the wake of several polluting incidents, including a large accidental flare that sprayed oil over some 137 homes in May.
Limetree Bay's announcement says the company has been trying to get funding to resume since the May 12 suspension of operations. Mass layoffs will not occur immediately but it reports it will have to "reduce the refinery's workforce by approximately 271 employees effective September 19."
More people work for subcontractors that service the refinery than work directly for Limetree Bay so the employment impact to St. Croix will be larger than that.
Acting EPA Regional Administrator Walter Mugdan released a short statement on Limetree Bay's closure.
"EPA is and has been focused on the health and safety of the St. Croix community," Mugdan said. "EPA has had regular, ongoing communications with Gov. (Albert) Bryan's office and the U.S. Virgin Islands government to offer our assistance to help this facility operate in a manner that is safe and complies with laws that protect public health. These lines of communication remain open and EPA stands ready to assist as needed."
The news is not completely unexpected. Limetree Bay's initial chief executive officer Brian Lever left in November, 2020, months before its brief run refining oil. In December, its sole oil supplier BP indicated it may cancel its contract if the refinery did not start operations very soon. And at the beginning of June, Reuters reported Limetree Bay was in severe financial straits.
The success of Limetree was always predicated on a brief window where it was projected to have an advantage due to changes in marine shipping fuel sulfur regulations. For that reason, it was originally slated to reopen before January of 2020. But it started its brief run one year later, at the end of January 2021.
Limetree Bay restarted part of the former Hovensa refinery, which shuttered operations in 2012, after several years of heavy losses.
Limetree Bay reports that officials met with employees Monday to announce the decision to suspend the restart and explain the transition process for those who will be affected by it.
"This was an extremely difficult decision for us, and we are truly saddened to announce suspension of our restart plans for the refinery," Jeff Rinker, Limetree Bay's chief executive officer said in the announcement. "Our personnel have demonstrated tremendous commitment and dedication in restarting the refinery, and we continue to be proud of their hard work. Unfortunately, this is our only option, given the extreme financial constraints facing the Company."
Limetree Bay reports it will begin preparing the refinery for an extended shutdown, which includes safely purging gases from all of the units and removing any residual oil and products in the lines. Its release indicates Limetree Bay's oil storage terminal will not be affected by the decision to suspend the restart of the refinery and will continue in operation.
When Limetree negotiated its terms with the government of the U.S. Virgin Islands, it emphasized that if the refinery did not restart, Limetree Bay would clean up the site and remove the above-ground refinery debris. But as the refinery met the contract's definition of a "restart" and the oil storage facility remains, it is not yet clear if there will be any such cleanup.
Editor's note: This story has been edited since it was originally published to add the statement from acting EPA Regional Administrator Walter Mugdan.