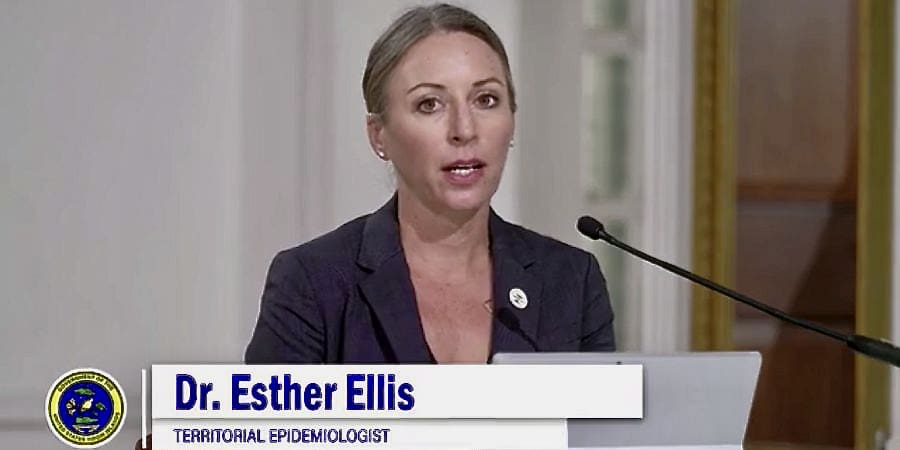 Monoclonal antibody treatments approved by the U.S. Food and Drug Administration in November are helping slow down the progression of COVID-19 symptoms in patients within 24 to 48 hours, according to Territorial Epidemiologist Dr. Esther Ellis.
Speaking at Tuesday's weekly news briefing, Ellis made it clear that the treatments are appropriate only for those who are either significantly obese; have kidney disease, diabetes or immunosuppressive disease; are currently receiving immunosuppressive treatment; are 65 or older; are 55 or older and have cardiovascular disease or another respiratory disease; or are 12 to17 with a heart, lung or neurological condition or are obese or significantly overweight.
The Department of Health announced the treatments in a news release on Saturday.
Treatments are not appropriate for patients who: are hospitalized due to COVID-19; require oxygen therapy due to COVID-19; require an increase in baseline oxygen due to COVID-19; or require chronic oxygen therapy due to underlying non-COVID-19-related morbidity.
"Since we have been infusing patients who meet the criteria, we have seen 100 percent success at preventing progression of symptoms," Ellis said. "All patients reported dramatic improvement in symptoms within 24 to 48 hours."
Ellis explained that the treatments are designed to block viral attachment and entry into human cells, which neutralizes the virus. The antibodies were identified from blood samples taken from some of the first patients to recover from COVID in the U.S., and Ellis said they are most suitable for treating mild to moderate COVID-19 in adults and pediatric patients aged 12 and older weighing at least 88 pounds who are at risk of progressing to more severe illness or hospitalization.
According to the latest numbers, the Health Department is tracking 105 active cases – 75 on St. Thomas, 25 on St. Croix and five on St. John – and has tested an overall 45,233 residents. Of that amount, 2,542 have tested positive and of the active cases, there is one patient hospitalized on St. Thomas.
The territory has the lowest COVID-19 death rate in the nation and the third-lowest overall positive case count, falling behind Hawaii and Vermont.
As positivity rates climb on St. Thomas, Ellis encouraged residents to continue wearing masks and practicing social distancing, along with getting the approved vaccines in an effort to push the territory toward herd immunity, which is achieved when a sufficient percentage of a population has become immune to an infection, either through vaccination or previous infection, to prevent the virus from spreading.
Speaking on Tuesday, Ellis said the Health Department has so far administered 11,079 first doses and 4,222 second doses of the approved COVID-19 vaccines, for a total of 15,301 doses. At this point, Health has opened up the vaccine to Group 1C, which includes residents working in water and waste management; food services; shelters and housing; finance; information technology and communications; energy; legal services; and the media.
Information about the COVID-19 vaccines can be obtained or vaccination appointments scheduled by calling the V.I. Territorial Emergency Management Agency's hotline from 8:30 a.m. to 3 p.m. Monday through Friday at 340-777-8227 (340-777-VACS).