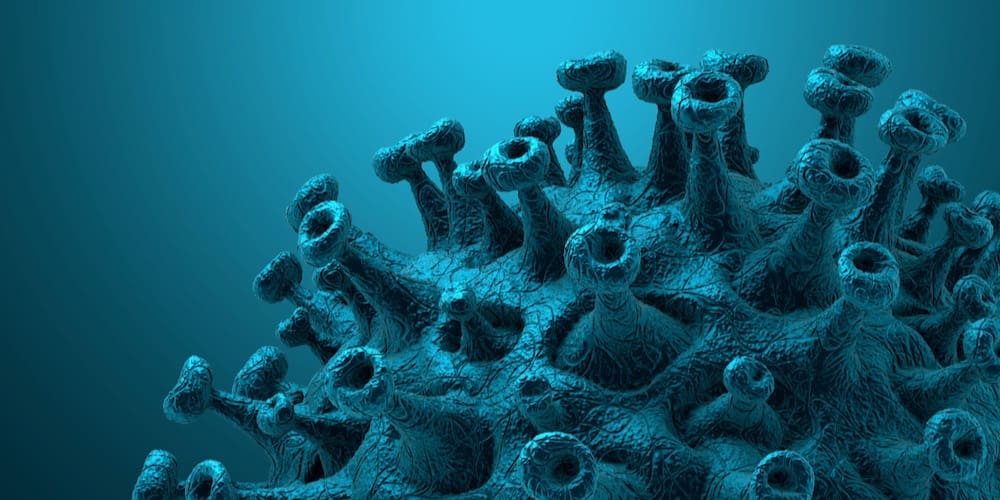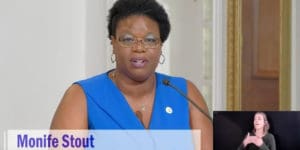 Demand for the new COVID-19 vaccines is strong and outstrips available supply in the territory, but as new shipments come in, more and more Virgin Islanders will get a chance to get immunized, according to V.I. Department of Health officials.
As of Thursday, 1,571 doses of vaccine were officially confirmed to have been administered in the U.S. Virgin Islands, V.I. Immunization Program Director Monife Stout said in a phone call. The real number is a bit larger because private clinics are getting the Moderna vaccine and there can be a delay before every clinic reports every vaccine, while the Pfizer vaccine goes through the Health Department. Since both require two doses about three to four weeks apart, the number of people fully immunized is half the number of doses or fewer, as many await a second dose.
For patients who have received vaccinations, it is crucial to get the second dose to ensure immunity. Pfizer's is given 21 days after the first and Moderna's is given 28 days later. But don't worry or decide you missed your chance if you miss that exact target, health officials said.
"We want patients to know not to get any anxiety if they missed their booster shot. There is a window," Stout said.
Many reports say the 21 and 28 days are minimums, not maximums, and efficacy does not go down if the second shot is delayed. But since you could catch the virus in the meanwhile, getting it quickly is best.
Is It Safe?
"I got my booster today so I am vaccinated. I would tell everyone it is safe," Stout said when asked what she would say to anyone who is worried or hesitant to take the vaccine is safe.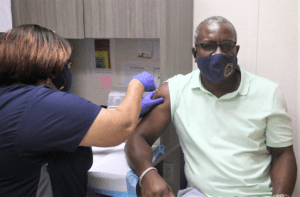 She urged anyone with concerns to look at the history of vaccinations and the damage that used to be caused by the diseases they prevent.
"Be willing to speak to your provider and ask those pressing questions. Educate yourself and make sure your sources are credible," she said.
Worldwide, a handful of people have had severe allergic reactions.
"We have one report of a very mild reaction and zero reports of a serious reaction so far," she said.
Just in case, recipients have to wait 15 minutes to see if there is any reaction, but should report anything, even if it is mild and happens later, she said.
"The only caution would be that any person who has severe allergies, anaphylactic allergies, should speak to their provider before taking it," and their provider might advise against it, Stout said.
Right now, though they are seeing little hesitancy and demand is much higher than the supply, she said.
"We are asking people to please exercise patience. We are trying our best," she said, adding "it will probably be June or July" when the general public is able to get the vaccine, without being an essential worker, elderly or suffering from a preexisting condition.
When Can We Stop Social Distancing and Wearing Masks?
The territory can get a minimum of 975 doses of the Pfizer vaccine and 1,900 doses of the Moderna vaccine every week, if national supplies remain steady, Stout said.
The vaccine takes two doses and its contents remain the same for each dose. Stout explained that a total of 2,875 people can receive the first dose each week. All shots are being given out as they come in. But since it takes two shots several weeks apart, that amounts to about 1,400 people per week completing the two-shot vaccination regimen and becoming fully, or nearly fully immunized.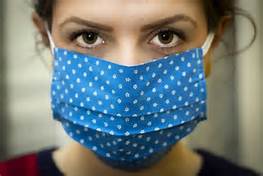 Dr. Anthony Fauci, director of the National Institute of Allergy and Infectious Diseases and top U.S. immunization official, estimated in December that vaccination will not start to have a noticeable impact on the number of new cases until close to 50 percent of the population is vaccinated or infected and recovered. It may take 80 to 85 percent of the population to either be vaccinated or infected and recovered before "herd immunity" takes hold and the virus is unable to spread enough in the community to avoid dying off.
The territory has about 100,000 people. So at an average of 1,400 completed two-shot vaccinations per week, it will be August before we reach that 50 percent mark and sometime around February 2022 before "herd immunity" takes hold. More vaccines may come onto the market soon, which officials hope will shorten that wait. But for now, little is changed.
"People need to still practice mask wearing, hand washing and social distancing. That does not go away," Stout said.
She said the vaccine "does not prevent you from getting or transmitting COVID-19. It does prevent you from dying from COVID-19."
Fauci, as well as the CDC, National Institutes of Health and the Food and Drug Administration, put it differently, saying that the vaccine is likely to prevent infection and transmission, but urging caution until more data verify it.
The most recent FDA statement says, "Most vaccines that protect from viral illnesses also reduce transmission of the virus that causes the disease by those who are vaccinated. While it is hoped this will be the case, the scientific community does not yet know if the Pfizer-BioNTech COVID-19 Vaccine will reduce such transmission."
Asked about that difference, Stout said the Health Department would urge everyone to cautiously assume there could be transmission.
"We are not trying to get people comfortable with not practicing their due diligence. This is not a green light to be careless," she said. "Research is ongoing. It is a never-ending thing. But in the meantime, let's just do what we need to do as a community to keep people safe."
It is unclear too, how long immunity will last after vaccination. Fauci has said he would be surprised if immunity lasts less than a year but also if it lasted more than a few years. But there will not be any solid data until the vaccines have been in use for several years.
Some have raised concerns about whether the vaccines will work on new, more contagious strains that have started to spread. The Associated Press reported Thursday that initial studies show the vaccines work fine on the new variants, as expected.
Are People Being Vaccinated In Order?
It may take a year for everyone to be vaccinated. Meanwhile, people will continue to get sick and potentially die. A memo from VITEMA circulated in December asked government agency heads to sign up government employees for vaccination. The inclusion of the Legislature, the courts and Bureau of Motor Vehicles, which are not on the CDC's list of essential, frontline workers, and the fact that there has been no similar system announced to get essential workers such as grocery store employees, raised concerns that government employees appeared to be at an advantage.
Stout emphasized there was no plan to vaccinate government employees first, saying a recent V.I. Territorial Emergency Management Agency memo advising agency heads to get lists of employees ready for the vaccine was poorly written.
"It is definitely not an issue where government employees are going first. It was just VITEMA doing their scheduling for front-line employees and most of those are in government," Stout said. "That letter needed to be rewritten."
While it could be read to mean all interested agency employees, only front-line employees with a lot of public contact were intended, she said.
"We only have a count of 71 government employees," who have received the vaccine as part of the second phase; Phase 1b, she said. That smaller number does not include government employees who are actual health care providers, at hospitals, clinics and nursing homes, she said. Those were the top priority in Phase 1a.
Asked how Tourism Department, court, V.I. Port Authority, BMV or Legislature employees meet those criteria, Stout said BMV "is a perfect example," as the cashiers interact with many people every day at their windows. "The traffic is high, so they are exposed," she said.
About the Legislature, she said "I would say it depends. They are targeting the security personnel who have to be in that building as people go in and out."
For comparison, food service workers, including people at fast-food drive-through windows and counters, are slated for the upcoming Phase 1c.
Grocery store workers are in Phase 1b, right after medical frontline personnel and those over age 75, because everyone must eat and grocery store workers work all day, indoors, without windows separating them from very large numbers of people. Groceries have many employees too, with several listed among the 25 biggest employers in the territory by the Labor Department.
Every grocery store that responded to our requests for information indicated no one had contacted them about vaccines and they did not know how they could arrange for employees to be vaccinated.
"I thought it was surprising, given how much we are in contact with the public," Starfish Market Manager Nedra Ephraim said. She said they have about 75 employees.
"We have not been contacted officially yet by anybody," said James Clarke, manager of the Fruit Bowl. His store has about 40 full and part-time employees.
"We see about 1,500 people a day. I think that should put us up in front of a lot of those government agencies," Clarke said. "If workers got sick it would be catastrophic."
Clarke said he has spoken to someone at a clinic to try to get employees vaccinated. But many of his workers are suspicious of the vaccine and only 11 want it right now.
Soon, when they are ready, they will reach out to grocery stores through the Division of Licensing and Consumer Affairs and get alerts out, Health Department spokeswoman Jahnesta Ritter said. They are also talking with VITEMA about possibly using the V.I. Alert system to send out mass texts, she added. They are also appearing on radio shows to spread the word and talking to the media regularly.
Among government agencies, the Bureau of Corrections is "on our list at the top" for the next round of outreach, Stout said. Prisoners and guards are at an elevated risk due to the close, crowded confines.
But Stout emphasized that anyone who meets the criteria for Phase 1a or 1b can call a provider and make an appointment for a vaccine. See the list of providers at the bottom for phone numbers.
A small number of elderly residents in their late 70s and 80s reached out to the Source, saying they had tried to arrange vaccinations, but no one would return their calls.
"I know it can be harder for that population," Stout said, adding that if they could not get through or could not get an appointment, "I would like them to contact my office" – 340-776-1113 – "because we have 28 providers, so that is a situation where I can step in."
Where to Get the Vaccine
The Health Department says the following providers are actively vaccinating by appointment:
– V.I. Department of Health Community Health, St. Croix: 340-718-131;
– V.I. Department of Health Community Health, St. Thomas: 340-774-7477;
– Neighborhood Pharmacy 340-718-6784 ;
– Carolyn Jones MD PC 340-774-2331;
– Delgiacco Medical LLC 340-772-1551;
– Inter-Island Pharmacies 340-777-1400;
– Pediatric Care Center 340-719-0681;
– Partners 4Kids 340-774-5437;
– St. Croix Obstetrics and Gynecology LLC 340-719-9876;
– Red Hook Family Practice PC 340-775-2303;
– Frederiksted Health Care Inc, North Shore 340-772-0260;
– V.I. Urologic Center, Inc. 340-774-9655;
– Plessen Urgent Care 340-715-7720;
– Yacht Haven Family Practice 340-776-1511;
– Frederiksted Health Care Inc., Ingeborge Nesbitt 340-772-0260;
– Cruz Bay Family Practice 340-776-6789;
– Wilson Healthcare Consultants 340-776-5507;
– ProHealth Urgent Care LLC 340-998-2404;
– St. Thomas East End Medical Center Corporation 340-775-3700;
– Frederiksted Health Care, Mid Island 340-772-0260;
– St. John Agape Wellness Center & Wound Care LLC 340-778-1932;
– Island Health and Wellness Center, Inc. 340-714-4270;
– Virgin Islands Ear, Nose & Throat St. Thomas 340-774-8881;
– B & S Medical 340-713-0348;
– Acute Alternative Medical Group 340-772-2883;
– Transform KM (Kmart Pharmacy) 864-991-9643;
– Risa M M Nielsen MD LLC 340-778-6680;
– Virgin Islands Ear, Nose & Throat St. Croix 340-773-8801.
Editor's note: This story was corrected to reflect how many people can receive the vaccine each week. The correct number is 2,875.