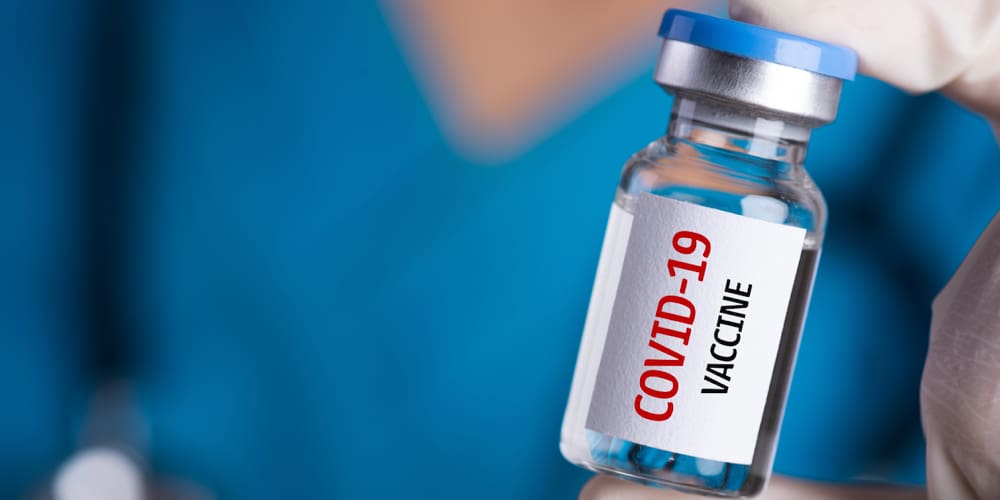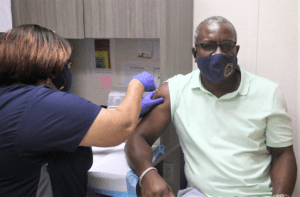 More and more Virgin Islanders are getting the COVID-19 vaccine, but the USVI's vaccination plan appears to diverge somewhat from the Centers for Disease Control guidelines.
In the territory, an array of local government employees has been put in the second group, or "Phase 1b," while the wording of the CDC guidelines appears to put those employees in the third group, "Phase 1c," or in the general population, Phase 2, group. Government employees appear to have been notified to sign up for vaccines before private sector essential workers in the same phase.
The CDC guidelines are not mandatory, and states and territories are free to set up their own priorities. But most jurisdictions are hewing very close to the guidelines, as more than a thousand Americans are currently dying from the virus each day and tens of thousands, if not more, will die while waiting for the vaccine.
Some states, like New York, are threatening to take away the medical licenses of entities who let anyone cut in line, and New York Gov. Andrew Cuomo has proposed legislation to criminalize vaccine line-cutting, (See CNN's "New York's governor wants to make it a crime to sell or administer COVID-19 vaccines to people trying to skip the line.")
And the Department of Health says it too is broadly following the CDC's guidelines.
The USVI has had 24 official COVID-19 fatalities so far, not counting individuals who left the territory for treatment prior to dying. With 2,042 confirmed cases, that indicates a fatality rate of about 1.17 percent, which is substantially lower than the nationwide rate of 1.69 percent. If the fatality rate in the territory were the same as the national rate, there would be around 35 fatalities.
So far, the territory's Department of Health has received 4,825 doses of the Pfizer and Moderna vaccines, about 1,200 doses have been administered across the territory, and more vaccines are being delivered weekly, according to a Jan. 4 Health Department release.
The CDC's Advisory Committee on Immunization Practices says Phase 1b should include everyone older than age 75 and front-line essential workers. The USVI guidelines have broader categories and place people over age 65 in Phase 1b. Its advisory committee has classified the following non-healthcare essential workers as front-line workers: first responders (that is, firefighters and police officers), corrections officers, food and agricultural workers, U.S. Postal Service workers, manufacturing workers, grocery store workers, public transit workers and those who work in the education sector (teachers and support staff members), as well as child care workers.
CDC guidelines say Phase 1c includes everyone over age 65, other transit workers, those in the legal profession, water utility workers and other essential government workers not included in Phase 1b. (See: CDC Updated Interim Vaccine Allocation Recommendation).
On Dec. 23, V.I. Territorial Emergency Management Agency Director Daryl Jaschen sent an email to numerous local government agencies, saying the agencies were "identified to participate in the COVID-19 Phase 1B vaccine allocation," and seeming to invite agency heads to let those "who would like" the vaccine to get it immediately.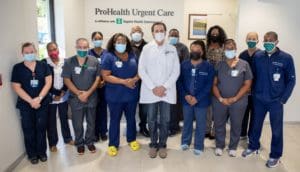 "This email serves as advance notice to immediately pole [sic] your employees as to who would like to receive the vaccine beginning next week, 28 December 2020 – 1 January 2021, if possible by close of business today!" Jaschen wrote, adding there would be a follow-up email with more instructions.
"VITEMA will serve as the coordinating agency between your agency and the vaccine providers in preparing for the schedule to receive the vaccine. The DOH [Department of Health] will serve, using the Buddy Team, as your vaccine medical POC [Point of Contact] for questions on the vaccine," he wrote.
Many of the agencies, like the Fire Service, Bureau of Corrections, Department of Education and police, clearly fall in the categories listed by the CDC.
Some, like the Bureau of Motor Vehicles, the courts, Legislature, Department of Sports, Parks and Recreation, Department of Tourism, Port Authority, Department of Licensing and Consumer Affairs, V.I. Taxi Association and Department of Planning and Natural Resources, do not, on their face, seem to fit in the category of "essential front-line workers" as defined by the CDC. The Water and Power Authority seems to fit the category of "water utility," which is specifically listed by the CDC for Phase 1c. But the Department of Health's listing is also broader in other ways. Its description of Phase 1b also includes everyone over age 65 and everyone with compromised immune systems or underlying health conditions, which CDC guidelines place in Phase 1c.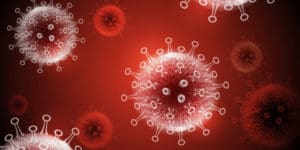 The small population of the territory and the amount of vaccine available locally may shape how the local categories are defined.
When asked how the list was put together and what was being done to get the vaccine to non-government employees like grocery store employees, who are in Phase 1b, VITEMA spokesman Erik Ackerson said in an email that "VITEMA has not been asked to contact non-governmental workers."
He listed an array of local and federal government employees they were asked to contact.
Asked how the list was put together, Ackerson said the Health Department produced it and VITEMA was only coordinating and carrying out what it was directed to do by the Health Department.
The Source contacted the Health Department, asking what efforts were being made to vaccinate non-government employees, such as grocery store workers, and why agencies that seemed not to fit CDC guidelines were on the list. Health Department spokeswoman Jahnesta Ritter reached out to department officials for responses and on Monday sent a news release with information on who was being included in Phase 1b and what entities are giving out vaccinations.
The release did not address efforts to vaccinate non-government employees or the reasons why some agencies were included that did not appear to fit.
Asked again about efforts to vaccinate non-government essential workers, Ritter said the Jan. 4 news release's provider information (listed below) was meant to help reach those non-government employees, that "a text alert via VITEMA will go out, and that the Department of Licensing and Consumer Affairs has email listings for those types of establishments."
"We will be using various methods to reach out to grocery store employees," Ritter said in a text message.
Asked if all the medical and nursing home staff and residents in Phase 1a had been vaccinated before starting the next phase, Ritter said the phases "don't have hard starts and stops," but are opening and expanding to the next phase as more vaccine becomes available. People in an earlier phase are eligible to get the vaccine but with more vaccines coming in, "individuals in 1A and 1B are getting vaccinated simultaneously. As the vaccine becomes available and people from those groups express an interest in getting vaccinated, our numbers grow," she said.
Pressed again on the initial question of why so many government agencies were put in Phase 1b and told their employees could be vaccinated before the end of 2020, Ritter said she would get back with an answer, adding "each jurisdiction has some flexibility with ACIP recommendations."
Asked whether grocery or pharmacy employees can do anything to get vaccinated right away, or if they should wait to be contacted by their employers, Ritter relayed a statement she attributed to the Health Department immunization director. The Health Department website says Monife Stout directs their immunization program.
"All we ask is that individuals make an appointment with one of our vaccination providers. It is up to grocers to determine how best they want to help their staff or organize internal communication," the immunization director reportedly said.
According to the Health Department's Jan. 4 release, the overall vaccination process is fluid and changes depending on the allotment of vaccines sent to the territory as it becomes available nationally.
The territory is being sent around 975 doses of the Pfizer and 1,900 of the Moderna vaccine each week. While there are no exact dates for each phase to start and stop, the Health Department reportedly is in the planning stages for mass vaccination slated for the early spring.
Meanwhile, non-government workers who fall into the categories of Phase 1b, including those who work in groceries or pharmacies; those age 65 and older and those with underlying medical conditions or compromised immune systems, can contact a vaccine provider and ask to set up an appointment.
"Some providers are reaching out as well to their target population," Ritter said.
Anyone in the territory who works or resides in a long-term care facility, is over age 75 or a front-line essential worker such as police or medical worker, and has tried to set up an appointment but cannot get the vaccine yet, is urged to contact the Source by sending email to billkossler@visource.com. Grocery and pharmacy employees, please share your experience setting up an appointment too.
The Health Department said the following providers are actively vaccinating by appointment:
– V.I. Department of Health Community Health, St. Croix: 340-718-131;
– V.I. Department of Health Community Health, St. Thomas: 340-774-7477;
– Neighborhood Pharmacy: 340-718-6784;
– Carolyn Jones MD PC: 340-774-2331;
– Delgiacco Medical LLC: 340-772-1551;
– Inter-Island Pharmacies: 340-777-1400;
– Pediatric Care Center: 340-719-0681;
– Partners 4Kids: 340-774-5437;
– St. Croix Obstetrics and Gynecology LLC: 340-719-9876;
– Red Hook Family Practice PC: 340-775-2303;
– Frederiksted Health Care Inc, North Shore: 340-772-0260;
– V.I. Urologic Center, Inc. : 340-774-9655;
– Plessen Urgent Care: 340-715-7720;
– Yacht Haven Family Practice: 340-776-1511;
– Frederiksted Health Care Inc., Ingeborge Nesbitt: 340-772-0260;
– Cruz Bay Family Practice: 340-776-6789;
– Wilson Healthcare Consultants: 340-776-5507;
– ProHealth Urgent Care LLC: 340-998-2404;
– St. Thomas East End Medical Center Corporation: 340-775-3700;
– Frederiksted Health Care, Mid-Island: 340-772-0260;
– St. John Agape Wellness Center & Wound Care LLC: 340-778-1932;
– Island Health and Wellness Center, Inc.: 340-714-4270;
– Virgin Islands Ear, Nose & Throat, St. Thomas: 340-774-8881;
– B & S Medical: 340-713-0348;
– Acute Alternative Medical Group: 340-772-2883;
– Transform KM (Kmart Pharmacy):  864-991-9643;
– Risa M M Nielsen MD LLC: 340-778-6680;
– Virgin Islands Ear, Nose & Throat, St. Croix: 340-773-8801.