The V.I. Police Department arrested eight people and confiscated 17 firearms, ranging from an AR-15 to a revolver, on charges stemming from firing guns into the air at midnight on New Year's Eve, police officials said Friday.
"All this week we have been telling everyone in the community not to fire their guns. We've been running a commercial on all the radio stations, telling people please don't fire your guns in the air," Police Department spokesman Toby Derima said during a press briefing in Charlotte Amalie.
"We want 2021 to be safe for all Virgin Islanders," Police Commissioner Trevor Velinor said.
"We have seen over the years, there has been a new type of behavior the last decade and a half, of celebratory gunfire" on New Year's Eve, Velinor said. "This is not a healthy option. It really does not set a good standard … some people have said it sounds like being in a war zone," Velinor said.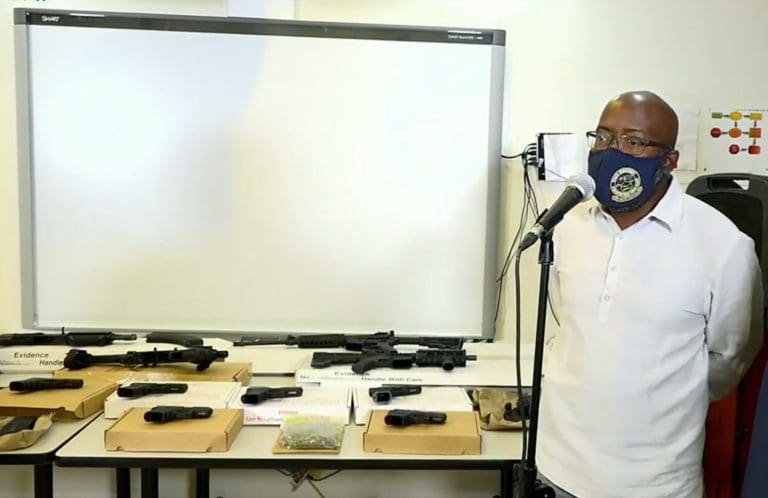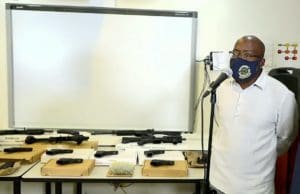 Despite warnings that shooting could lead to criminal charges, "this year was no different," and there were gunshots in multiple communities on all three major islands, he said.
Velinor said police chiefs Steven Phillip (STT-STJ) and Sidney Elskoe (St. Croix) and other chiefs came up with an enforcement plan, getting not just police department officers but enforcement officers at Licensing and Consumer Affairs, Planning and Natural Resources, court marshals and others to keep an eye and ear out and immediately report shots fired, so officers can respond right away.
They have arrested eight people; four on St. Thomas and St. John and four on St. Croix. Another eight are under investigation, Velinor said.
Officers also went out and picked up spent casings, to do ballistic work and see if any of the weapons were involved in other crimes and more arrests may come out of the work, he said.
Update: According to police, among those arrested in the operation on St. Thomas was Jamari Forde, age 29 of Tutu Valley; Shomari Maximea, age 28 of Habetts Gade; and Trevor Martin, age 49 of Michael J. Kirwan Terrace.
On St. Croix, police arrested Dejani J. Sweeney, age 23 of Estate Glynn; 23-year-old Elvis M. Villar of Orange Grove; 27-year-old Cylton Grouby of Golden Grove; and Eustace E. Charles Jr., age 19 of Williams Delight.
Police Chiefs Elskoe and Phillip urge the community to call in with information on crimes by calling 911, the Criminal Investigation Bureau on St. Thomas at (340) 774-2211, the Crime TipLine on St. Croix at (340) 778-4950, or anonymously at (800) 222-TIPS.