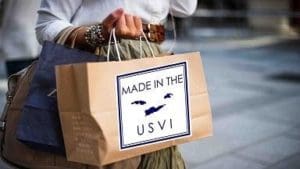 Residents and visitors of the U.S. Virgin Islands will be able to once again purchase unique gifts from a variety of locally-made products that will be sold in the territory beginning in December on St. Croix.
The Enterprise Zone Commission (EZC), an entity of the Virgin Islands Economic Development Authority (VIEDA), in collaboration with the Virgin Islands Council on the Arts (VICA), an agency of the Government of the Virgin Islands within the V.I. Department of Planning and Natural Resources, will re-open the doors of the popular "Made in the USVI" Pop-Up Store.
The "Made in the USVI" Pop-Up Store will be open from 9 a.m. to 5 p.m., Wednesday, Dec. 2 through Friday, Dec. 11. On Saturdays, it will be open from 9 a.m. to 2 p.m. It will be closed on Sundays. The store will be located at The Dorsch Center, 604 Strand Street, Suite No. 1, Frederiksted, St. Croix, USVI. This building is in the vicinity of The Fred Hotel.
Thirty manufacturers from St. Croix that create products in the jewelry, gift, art, bath and beauty, and food and wine industries will be featured. The "Made in the USVI" Pop-Up Store will also enable the store's artisans to develop partnerships.
"Due to the store's popular demand, several small manufacturers approached the VIEDA and VICA teams to inquire if the 'Made in the USVI' Pop-Up Store can be re-opened. As always, the EZC and VICA teams stepped forward and answered the call of our small businesses, especially during this challenging time for all of us, our residents and business community. Now more than ever, this is a time to support our small manufacturers, both safely and enthusiastically," said Nadine T. Marchena Kean, managing director of EZC.
A "Made in the USVI" Pop-Up Store will also be held on St. Thomas on Wednesday, Dec. 16, after the store closes on St. Croix. Further details are forthcoming for the St. Thomas store.
Pop-Up Stores are short-term stores that are temporarily established in an available space to allow customers to experience products of a business first-hand.
To ensure the safety and health of the store's vendors and patrons during this pandemic, masks are required and temperature checks will be taken at the door. Hand sanitizer and a hand-washing station will also be available.
For more information, call 773-3075 and visit www.facebook.com/MadeintheUSVI.