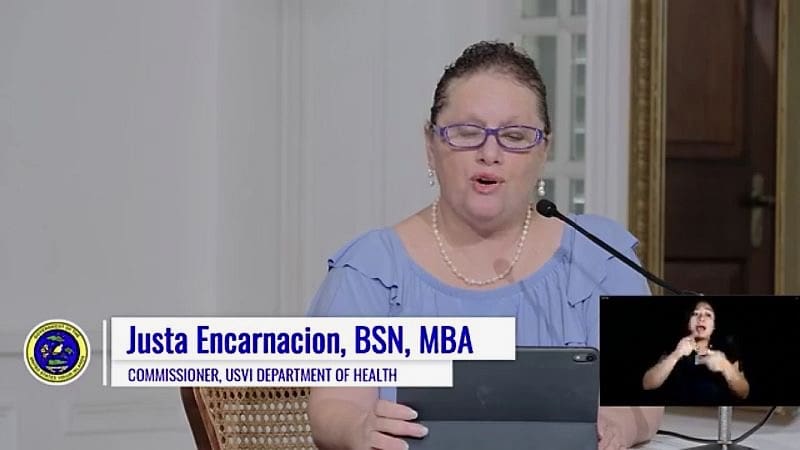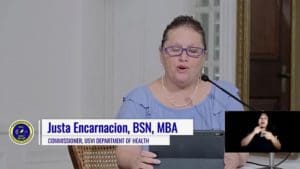 Recent predictions by one national data center that put the territory as a leader in COVID-related deaths per capita are based on a "single source that is frequently criticized," according to Health Commissioner Justa Encarnacion.
The Institute for Health Metrics and Evaluation (IHME) at the University of Washington's School of Medicine released its report on Sept. 3, stating, "Under the most likely of IHME's scenarios, the nations with the highest per capita total deaths would be the U.S. Virgin Islands, the Netherlands and Spain. By WHO [World Health Organization] region, this scenario projects 959,685 total deaths by Jan. 1 in the Region of the Americas, 667,811 in the European Region, 79,583 in the African Region, 168,711 in the Eastern Mediterranean Region, 738,427 in the Southeast Asia Region and 191,598 in the Western Pacific Region."
At a virtual news conference on Monday, Encarnacion said the IHME model is "incorrect 70 percent of the time," and is unreliable if used to predict cases months or even weeks in advance.
The Centers for Disease Control, she added, recommends using a combination of 14 available models for the U.S. Virgin Islands, which can be found on its website under the tab "consolidated forecasts." According to the CDC, the territory is now predicted to have one death each week into October and has one of the lowest COVID-related mortality rates – 19 deaths per approximately 100,000 people – in the nation and U.S. territories. The higher states and territories are reporting 150-180 deaths per 100,000 people, Encarnacion added.
"We are seeing the fruits of our labor as a department and as a community, and it is unfortunate that inaccurate information has been frequently circulated nationwide and in the territory," Encarnacion said.
Related Links
– Researcher Explains Metrics That Show USVI Leading the World
in Per Capita COVID Deaths by Year's End
– First COVID-19 Global Forecast: IHME Projects
Three-Quarters of a Million Lives Could be Saved by January 1
While a 19th COVID-related death was announced over the weekend, data indicates there has been a "significant decrease" in positive COVID-19 cases territorywide, she said. As of Monday's press conference, the department was tracking 58 active cases, with 18,354 individuals tested to date. Of that amount, 17,120 tests were negative, with 1,221 positive and an overall 1,114 recovered. Also, as of Monday, St. Croix's Gov. Juan F. Luis Hospital had no COVID-19 positive patients, while Schneider Regional Medical Center had one in stable condition.
Meanwhile, the department has rolled out a "boots on the ground" initiative to put masks, hand sanitizer and informational pamphlets into the hands of residents on St. Thomas, St. John and St. Croix, with pop-up testing at St. John's two health care facilities. Encarnacion noted that at testing sites, some residents were wearing masks incorrectly – or, wearing none at all – and she underscored the importance of mask-wearing in public to prevent the spread of droplets that spread the virus.
"Parties and other mass gatherings put you at risk," she added. "We are not out of the clear and most of us really have to comply."