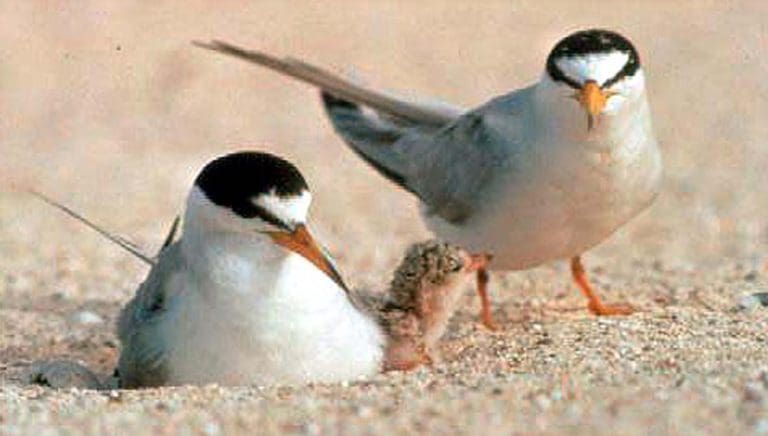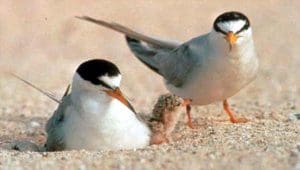 Buck Island Reef National Monument on St. Croix has announced that the least terns have left West Beach. All of the beach is open to the public again.
Buck Island Reef National Monument is one of 15 known nesting sites on St. Croix for the least tern, Sterna antillarum antillarum, a locally protected migratory sea bird. Unfortunately, the nesting colony was not successful this year. Park biologists only saw three chicks this season. This is likely due to people entering the closed nesting area and disturbing the nesting birds. The least terns arrived on Buck Island in late April, and for eight weeks they tried to nest. Initially there were 20 adult birds, and by late May those numbers had swelled to between 75 and 100 birds.
The least tern nesting area on Buck Island Reef National Monument is unique to the Virgin Islands. It is the only area where the birds have no threat from vehicles, dogs and other non-native predators. The only danger to the terns nesting success seems to be from human disturbance and dogs and other non-native animals. All least terns are protected under the Migratory Bird Treaty Act and are listed as "territorially endangered" by the U.S. Virgin Islands; they are protected locally by the Virgin Islands Endangered and Indigenous Species Act.
Thanks to everyone who obeyed the temporary beach closure and refrained from walking, wading or swimming in the closed off nesting area. Hopefully, there will be better nesting success next season.
For more information about least terns, visit the webpage created by Gulf Islands National Seashore: https://www.nps.gov/guis/learn/nature/leastterns.htm