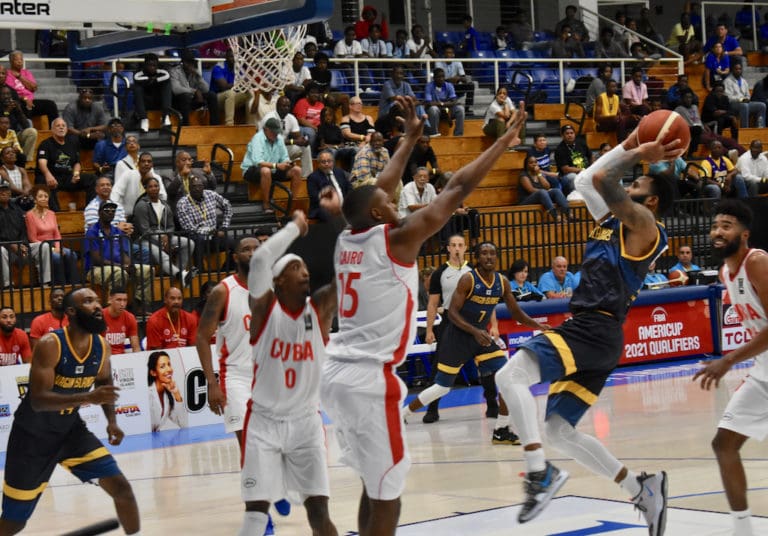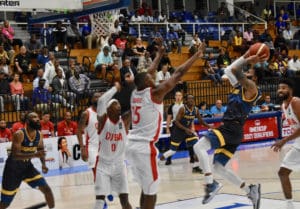 Cuba defeated the U.S. Virgin Islands, 91-64, at the UVI Sports and Fitness Center Monday night in FIBA AmeriCup qualifying action in front of approximately 2,000 fans.
The home team struggled early, taking more than seven and a half minutes to hit its first field goal, a Walter Hodge jumper, which made the score 14-3 with 3:23 left in the first period. The Virgin Islands hit only one other shot in the first quarter and trailed 22-10 at the end of the first.
Cuba got its lead to 18 points – their biggest of the first half – with about five and half minutes left before the halftime break. USVI cut the deficit to 12 with just over a minute left in the second quarter, but Cuba scored the half's last four points and held a 42-26 advantage at halftime.
The Virgin Islands scored the first basket of the second half, but the Cubans scored nine unanswered points, which gave them a 23-point lead four and a half minutes into the second half. The Virgin Islands trimmed the deficit to 16 after Stephan Adams made a layup with 1:45 left in the quarter but trailed 61-43 entering the final quarter of play.
The closest the Virgin Islands got in the final quarter was 16 points.
Hodge had a game-high 23 points while Xavier Richards had 13 points in the loss. Adams and Jaamal Samuel each had 10 points for the V.I.
Led by Yoel Cubilla with 21 points, all five Cuban starters finished in double figures.
The win gives Cuba the first tiebreaker – higher game point differential – over the Virgin Islands during this home and home series.
The FIBA AmeriCup takes place every four years between countries in the Caribbean, North America, South America and Central America. The top three teams in each qualifying group will advance to the AmeriCup finals that will take place August 2021.
The next games in the qualifying series will take place in November with Virgin Islands playing the Dominican Republic on Nov. 26 and Canada on Nov. 29 in the Virgin Islands. In February 2021 the Virgin Islands will travel to both those countries.
In other group play during the first window, Canada defeated the Dominican Republic at home, 89-72, but fell in overtime, 88-84, in Santo Domingo.
The Current Standings
(Win-Loss/ Point Difference)
Canada (1-1/ +13 )
Cuba ( 1-1/ +11 )
Virgin Islands (1-1/ -11 )
Dominican Republic (1-1/ -13)