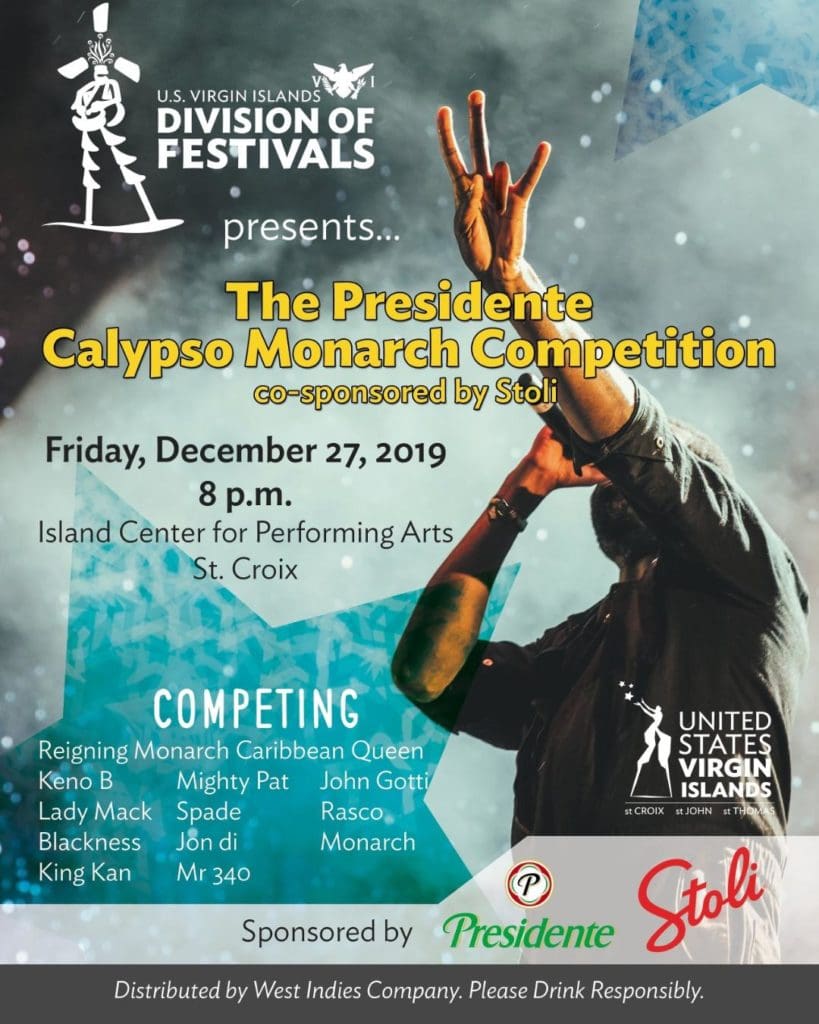 A field of 12 contenders, including the reigning Monarch Caribbean Queen, are preparing their best lyrics and commentary in order to capture the coveted title of St. Croix Festival Calypso Monarch. The show takes place on Friday, Dec. 27, at the Island Center for the Performing Arts.
"It's going to be a calypso battle," said organizer Dean "Mean Dean" Baptiste.
Caribbean Queen, who won her fourth Monarch title last year, will be defending the crown. And coming for the title are Keno B., Mighty Pat, John Gotti, Lady Mack, Spade, Rasco, Blackness, John di, Monarch, King Kan and Mr. 340.
The show opens with the winners of the Junior Calypso competition which was held on Dec. 7, including 16-year-old Junior Calypso King Brian Chase and other division winners Rah'Kim Clarke, Shawn Edney, Amalie Figueroa and Nicholai Chase.
Baptiste, a lifelong calypso entertainer and DJ, is organizing the show for the first time. He said this year the contenders are "really going for it" and pulling out all the stops to unseat Caribbean Queen. "There are songs written about her," Baptiste said. "They are coming for her."
Baptiste said the contenders will each sing two rounds. The stronger song is usually in the first round he said, and the second song is sometimes a party song "but it could be a serious song too."
St. Thomas Carnival reigning Calypso Monarch Niki Smith will sing two songs after the local calypsonians have performed and while the results are being tabulated. The show is expected to end around 1 a.m. according to Baptiste.
Ticket outlets are Gary's Bakery in Christiansted and Armstrong Ice Cream in Frederiksted.
Darren "Boogle" Stevens will MC the show.