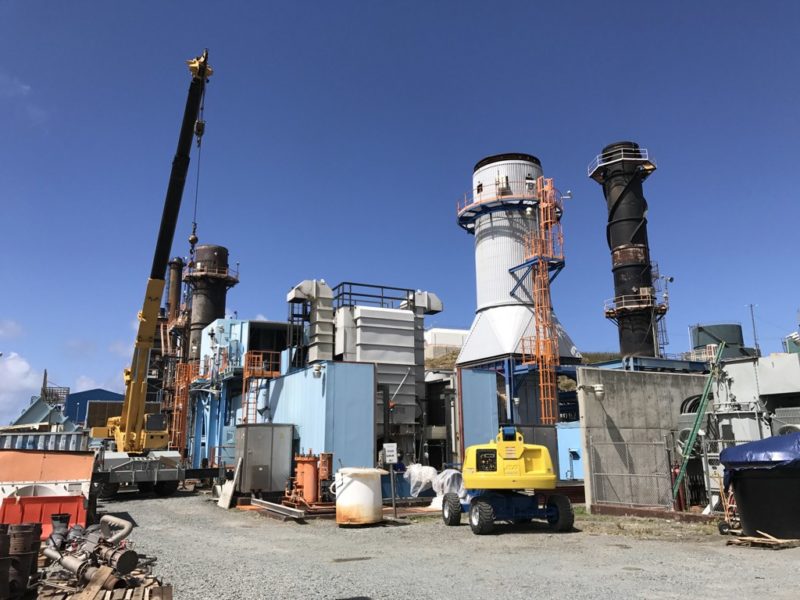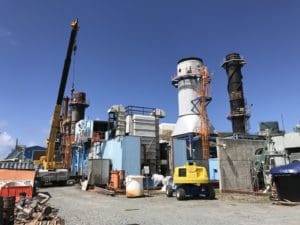 After a second emergency meeting on Monday, the governor and senators agreed in principle to make an emergency appropriation later this week to pay immediate past-due accounts to Vitol to restore propane supplies and keep the electricity flowing at the V.I. Water and Power Authority.
Vitol, the V.I. Water and Power Authority's propane supplier and creditor for WAPA's conversion from oil to propane electricity generation, cut off the propane it supplies the utility at noon Saturday, in response to the Public Services Commission's denial of a base rate increase to create a revenue stream to pay Vitol.
This would have forced WAPA to use more expensive fuel oil instead and prevent it from using its newest, most efficient generators. Plus, the fuel surcharge, which the PSC lowered, will not produce enough revenue to buy enough fuel to keep the power on.
"We have a way forward on this, we believe, in principle, based on the discussion today," Senate President Novelle Francis Jr. told the Source Monday. "It is evident in order not be in default. In respect to Vitol we need to act, and we agreed to identify some funds to stop the continued use of diesel no. 2 fuel and go back to propane."
Francis said he is convening an emergency session Friday, Dec. 27, "where we will be able to hear from WAPA in the public view as well as the executive branch as to perhaps a funding source to be able to address this crisis."
"It is unconscionable to allow for the diesel to continue to be used and allow the increase [in price of electricity] of about 40 percent. … We cannot sit back and allow that to happen," he said.
The plan is for a one-time appropriation just to get the propane flowing "pending any decision by the PSC" on the base rate moving forward.
"But this is to just address the short-term solution to go back onto the propane," Francis said.
Gov. Albert Bryan Jr. added some detail in a statement Monday evening, saying the Legislature would vote Friday on a measure to reappropriate $6 million from the miscellaneous section of the fiscal year 2020 budget. This would help WAPA meet its December 2019 and January 2020 obligations.
"Not being on propane fuel costs us about $200,000 a day," Bryan said. "The Senate has agreed to reappropriate funds from the miscellaneous part of the budget to give WAPA the immediate cash they need."
Before Monday's meeting, Bryan reportedly asked the V.I. senators to work with the administration to "develop a long-term solution to addressing WAPA's mounting debt, which includes supporting an adjustment in the utility's base rate."
He said senators agreed to work on a long-term solution, which he said includes possibly developing legislation to ensure the funds generated from a base rate adjustment are used for its intended purpose.
Senators have previously raised questions about whether WAPA is using its funds properly.
Bryan said Monday his administration and the Legislature have agreed that WAPA needs to fulfill its obligations to the ratepayers by improving its management structure and resolving costly billing discrepancies, which are also a major bone of concern for senators and many residents.
"We agreed to work together to hold WAPA accountable to the people. Many questions have been posed that need to be answered," Bryan said. "Our intent is to create a solution that is well thought out and holds WAPA accountable. Our goal, always, is to have a more reliable and affordable power grid."
WAPA spokesman Jean Greaux Jr. said Monday that WAPA is reassured the governor and members of the Legislature are focused on assisting WAPA in addressing its financial challenges.
"The goal is to make a payment to Vitol to allow WAPA to resume the use of lower cost propane fuel," Greaux said.
In the medium-term, WAPA officials have said they need a revenue stream to allow the utility to refinance the Vitol debt of around $150 million at much lower rates, which they have said will lower costs even with the proposed base rate increase.