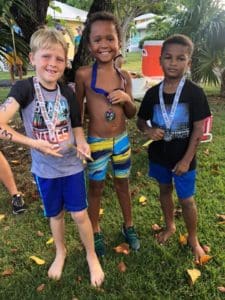 In spite of the busy holiday weekend, a dozen kids, ages 5 to 13, turned up at Chenay Bay on Sunday morning for the Fall Fling Splash 'n Dash, hosted by the Junior Tri VI committee.
Although it turned a bit steamy after the early morning showers, the sea was calm and ready for a race. The two youngest age groups at the swim/run event were started at the same time, with the 5-6 category swimming 25 meters and the 7-8 group swimming 50 meters.
Siblings Ramsey and Avery Adams both lead their divisions with powerful swims. After the swim, Ramsey put down a good .25-mile run and stayed ahead of Sidney Hull, who was in his first-ever race. Avery also stayed ahead of the 7-8 division and crossed the line before Chad Lewis (2nd) and Oliver Croney (3rd). Priscila Sharmouj, the only girl in the race, finished just a few seconds behind the boys.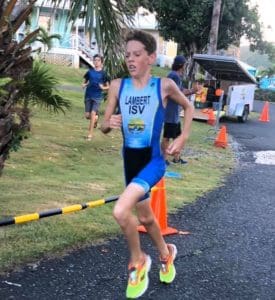 The next two age groups also toed the line at the same time, with the 9-11 category swimming 100 meters and the 12-15 swimming 200 meters. Teague Gleason lead the 9-11 group through the swim and run and finished just 4 seconds ahead of Kai Tanguay. Ozzy Odom was third. Maeve McKinnon, of Good Hope Country Day School (GHCDS), and Porter Garnett, of Free Will, kept pace and had fun in their first time at a Junior Tri VI race.
Classmates/teammates Mason Lambert, Kaeden Gleason and Candace Felix took on the longest distance of the morning — a 200-meter swim and a 1-mile run. While Kaeden completed a faster swim, Mason put down a faster run, which pushed him ahead of Kaeden by 7 seconds. Candace had a smooth swim and held her own on the run.
The Junior Tri VI events are open to kids of all abilities, ages 5 to 15. For more information, contact 513-2707 or go to http://vitf.org for the calendar.