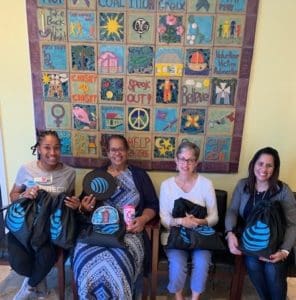 The AT&T U.S. Virgin Islands retail team and local chapter of Women of AT&T continue to give back to the islands. The AT&T employees raised $245 for the Women's Coalition of St. Croix (WCSC) and donated 20 backpacks filled with wet wipes, shampoo, conditioner, deodorant, toothpaste and more.
Women's Coalition provides help to people impacted by violence. Its services include: crisis counseling, emergency shelter and transitional housing for survivors of domestic and sexual violence, stalking and dating violence counseling.
"As employees of a company with a long history of community involvement and volunteerism, giving back is engrained in our work culture," said Catherine Kling, AT&T area retail sales manager for the U.S. Virgin Islands. "We want to help make a difference in the lives of those in need, and that's what the Women's Coalition of St. Croix is doing."
About Philanthropy and Social Innovation at AT&T
AT&T Inc. is committed to advancing education, strengthening communities and improving lives. Through its community initiatives, the company has a long history of investing in projects that create learning opportunities; promote academic and economic achievement; or address community needs.
The company's signature philanthropic initiative, AT&T Aspire, drives innovation in education to promote student success in school and beyond. With a financial commitment of $500 million since 2008, AT&T is leveraging technology, relationships and social innovation to help all students make their biggest dreams a reality.