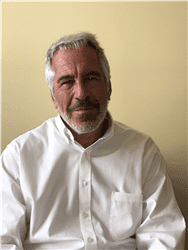 Jeffrey Epstein, accused child sex trafficker and longtime V.I. tax break beneficiary, was found dead in his Manhattan jail cell of an apparent suicide, early Saturday morning, ABC News has reported.
Epstein was charged with sex offenses involving female minors who were transported either to or from Florida and New York. Several accusers also said they were taken to his island property off the coast of St. Thomas.
Court documents filed in a 2017 case in New York, Southern District, allege the defendant used his vast wealth and a network of employees to orchestrate sexual encounters with female minors, some as young as 13. That case, titled Jane Doe 43 v. Epstein, et al, was closed in December. But new charges were filed against him in July for sex trafficking minors.
Epstein's charitable foundation, established as a condition of 90 percent V.I. Economic Development Authority tax breaks for his businesses, has contributed to a number of V.I. entities and causes over the years. The foundation's tax benefits have been a politically contentious issue since accusations were first raised agains him in 2006 in Miami. In the 2006, then-candidate Kenneth Mapp made a large issue of the fact his gubernatorial opponent Gov. John deJongh Jr.'s wife worked for Epstein's company. The St. Croix Avis ran salacious editorials attacking deJongh on Mapp's behalf. DeJongh won the election and the issue was dropped. Although he campaigned on it in 2006, Mapp never raised it during his term of office, from 2015 to 2019, and numerous V.I. politicians accepted political donations from Epstein in the intervening years.