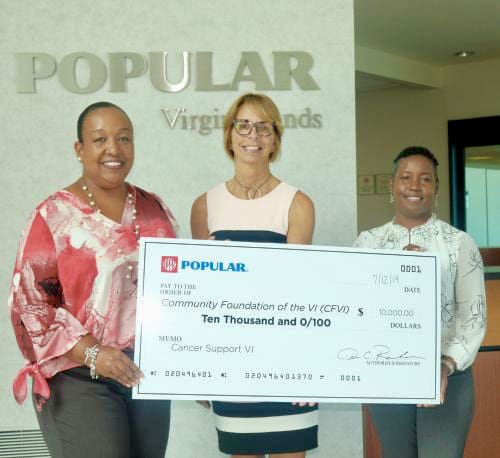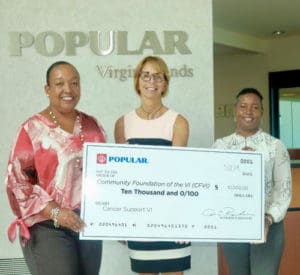 As part of their yearly "Make A Difference Day" initiative, employees of Banco Popular raised funds for Cancer Support V.I., according to a news release from the bank.
When Popular was first approached to participate in the "CSVI Paint the Town Pink" initiative, the team decided to do something bigger – host a fundraising challenge that netted $10,000 for the cancer agency.
"Every year, Popular employees ignite change by participating in National Make A Difference Day, where they choose a local non-profit organization or social cause to support." said Oran C. Roebuck, senior vice president and region manager for Popular. "This initiative by our colleagues demonstrates the commitment and interest Popular has in the community. We have all been impacted by cancer in our community and we stand together in the battle. I am truly proud of my team."
The funds for CSVI were received by CSVI Director, Barbara Michaud.
"We are very grateful for the support of Popular and its employees. Donations like this allow us to fulfill our mission to help cancer patients in our community," Michaud said.
Cancer Support VI was founded in 2005 as a non-profit organization with a mission to work with medical institutions, and community organizations in the USVI to support those affected by cancer. CSVI provides outreach, education, advocacy, financial assistance, and other resources that help patients on their cancer care journeys.