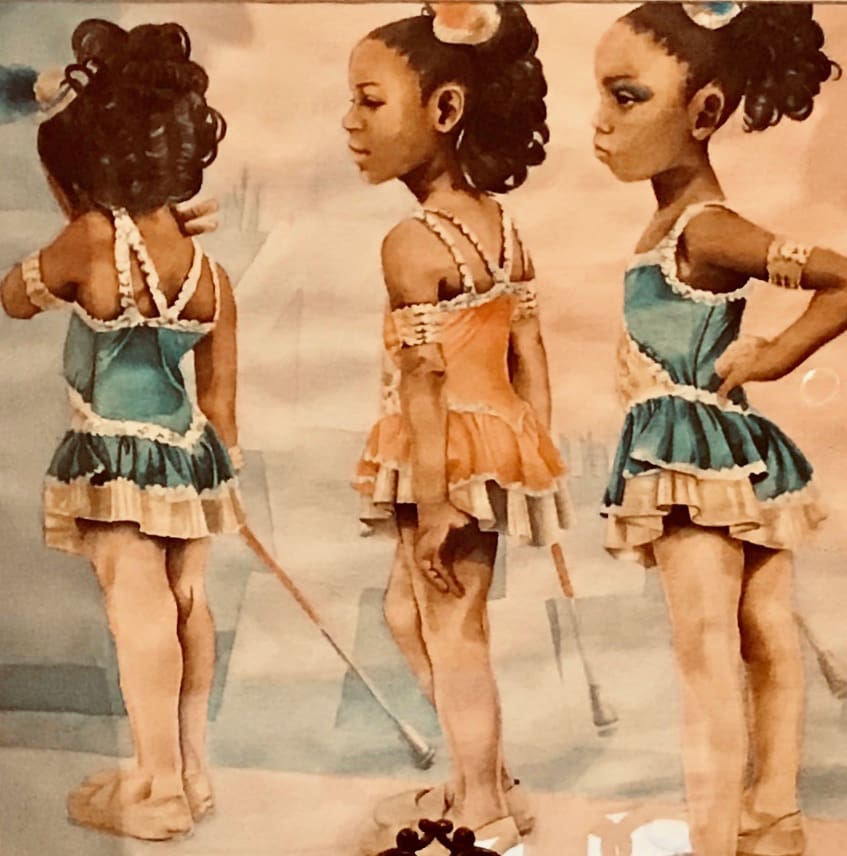 St. Croix Central High School senior Alayna Caraballo took the first-place honors from among participating students in the territory in the Congressional Art Competition, Delegate to Congress Stacey Plaskett announced at a "meet and greet" event May 16 at her office.
Caraballo's winning entry was "Celebration," a watercolor depicting a majorette trio in a recent Christmas Carnival.
Good Hope Country Day School seniors Ethan Stamper and Wylie Crowther came in second and third place, respectively, with Stamper's portrait "Incandescent" in acrylic and Crowther's acrylic of "Dulcie at Dusk."
The annual Congressional Art Competition is open to high school students across the nation and has been sponsored by the Congressional Institute since 1982. Students submit entries to their representative's office, and panels of artists from the district select the winning entries. Winners are recognized both in their district and at an annual awards ceremony in Washington, DC.
As this year's winner, Caraballo's painting will be displayed at the U.S. Capitol for one year.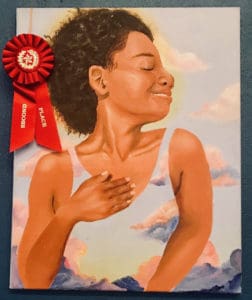 Plaskett's office put out a call to all art teachers and students with a deadline for the competition. The Virgin Islands Council for the Arts made the arrangements for the judging on May 9, and also provided for the winning student to travel with an escort to Washington, D.C. for the ceremonies. High school students from the public, private, and parochial schools across the territory participated in the competition.
Caraballo plans to become a medical illustrator. She has been accepted to the School of the Art Institute of Chicago with a merit scholarship. Crowther will enroll this fall at the University of Illinois at Chicago with a major in urban planning. Stamper will major in fashion merchandising at the Virginia Commonwealth University upon graduation this year.
According to Caraballo's CHS art teacher Niarus Benjamin Walker, Caraballo is a strong-willed, independent, and "phenomenal" student.
"This year's competition is her third try. She entered the competition in 10th grade in 2017 and came in second place; she did not place in 2018. She entered in 2019 and she was determined to win first place," Walker said.
GHCDS art teacher Suenita Banwaree said she was excited to watch her students develop as artists.
"Stamper entered three years and came in second place for 2018 and 2019. He has always been drawn to art. Wylie was incredibly shocked to place second. He is more familiar with drawing than painting," she said.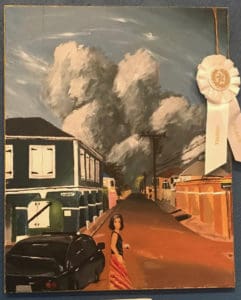 VICA's special project coordinator Kendell Henry spoke at the Congressional Artist Meet and Greet announcing the winners to the parents, friends, and members of the community.
"It was challenging for the judges to select the winning art," Henry said. "The students did an awesome job and we look forward to them continuing in the arts."
Plaskett commended VICA for its work in encouraging art in the V.I.
"There will be art from every state and every district from over 400 students who came in as first place winners," she said.
"I have to tell you this," Plaskett said. "When you're walking every day – members of Congress have to walk from their offices to the Capitol – you walk with your head down talking to people. Along the corridor leading to the Capitol – the walls are lined with artwork from students around the country. Every day I try to focus on a different piece because it gives me hope. There are always messages for us that the artist is trying to convey. I am ever so grateful for what they do."
When asked about her feelings with all of the recognition she is getting, Caraballo replied, "I don't feel different. I try my hardest to improve as an artist."
Caraballo worked during the summer of 2017 at the Top Hat Gallery and created the website for the gallery's artwork for owner Hanne Rasmussen.
"I also cleaned and arranged the gallery during that time," she said.
Attorney Kelvin Vidale said he is one of Caraballo's most ardent cheerleaders.
"She has this uncanny sense of logic. She is analytical. It was she who helped us to win the CHS Moot Court last year – we came in second place overall because of her," he said.
Stamper and Crowther are performing artists and both have participated in many of GHCDS productions. They are also singers, and their recent accomplishments include participating in the 42nd annual Utah Shakespeare Festival; both had leading roles in the recent GHCDS production of "Mamma Mia."
Stamper is no newbie to art – he has been drawing and painting from an early age. This past Art Thursday in Christiansted, he sold seven of nine of his art pieces, with orders for more, he said. He set up a table in front of Joyia Jewelry where he works part-time learning the craft of jewelry making.
For Crowther, painting is just a hobby. He likes it but urban planning is what he is looking forward to in college.
"I have this love for cities, he said. " I like to draw subway maps."
Two other Central High School senior students were recognized at the Meet and Greet in Plaskett's office and showed their artwork. De'nycia Smith created a self-portrait linocut – "The Eye of Me." A linocut is a printmaking technique using a sharp knife to cut into linoleum, creating a design and giving a relief effect, Smith said. Sheldon Tull showed his painting in watercolor to represent his own photograph of a moko jumbie in performance. Sheldon plans to continue his art in college with a concentration in animation.
A series of sculptures Caraballo created using self-drying clay are on display in the airport departure lounge at the Henry E. Rohlsen International Airport on St. Croix. The figures represent a journey into the culture of the islands, Caraballo said.
"It was a school project. We were asked to be creative and tell a story," she said. "My stories were about the moko jumbie, the goat-foot woman, and the mermaid. I researched all three and came up with a narrative and sculptures depicting the characters."
Althea Tutein is Caraballo's mother.
"I am excited and overwhelmed," she said. "My daughter submitted a portfolio displaying her ability to use different media such as charcoal, oil, and others creating sketches. Her essay expressed her passion for the arts and how she sees things in a different dimension. The result is a merit scholarship that will cover four years at the School of the Art Institute of Chicago as long as she maintains a 4.0 grade point average.