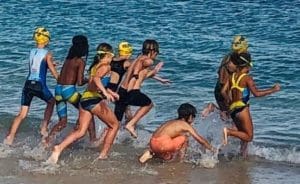 The Junior Tri VI committee wrapped up its fall/winter season of races for young athletes on Sunday, March 3, at Cramer's Park with the March Madness Junior Triathlon. Twenty-six students from four different schools, as well as several home-schooled kids, participated in the swim/bike/run event.
In the 5-6 category Star Apple Montessori student Ramsey Adams emerged first from the calm sea on the 25-meter swim. Miles Kantowski made up a lot of time on the .5-mile bike ride, but he just couldn't catch Hudson Mirocha, who was ahead of Kantowski from the start. Mirocha finished the .25-mile run first and was the overall winner in 8:59. Kantowski was second. Ramsey was the first-place female in 11:41. London Curran, a triathlon first-timer, was the second female.
The large 7-8 category was off next to take on a 50-meter swim, .5-mile bike and .5-mile run. Only seconds separated leaders Kai Tanguay, Henry Collins, Bjorn Stutzman and Avery Adams on the swim. Tanguay developed a bit of a lead on the bike, while Collins gained back a few seconds on the run. Tanguay held his lead, though, and was the overall winner in 9:00. Collins, a student of St. Croix Montessori, was 2 seconds behind. Stutzman was third in 9:38. Good Hope Country Day School (GHCDS) student Priscila Sharmouj was the first female in 10:24. Although there was some confusion on the bike laps, Charlise Morris had a strong run and finished second. Niah Spitz, in her first Junior Tri Vi event, finished in third place.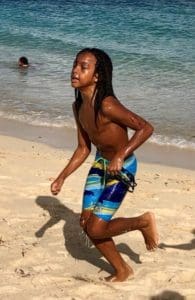 The 9-11 group started with their game faces as they charged in for their 100-meter swim. Joseph Freeman led the swimmers, but Teague Gleason overtook him on the 1-mile bike ride. Gleason demonstrated a near-professional flying dismount before heading onto the .5-mile run. Freeman, who runs on the GHCDS track team, took back his lead and finished first in 12:59. Gleason, while running with one shoe on, was second and Kalonji von Shilling-Royer was a solid third. Candace Felix, also a GHCDS runner, was the first female and third overall. She joined the Dolphins Swim Team this year to improve her swim times, and it's paying off. Macy Kirsehweng was second and Joanne McJunkin was third.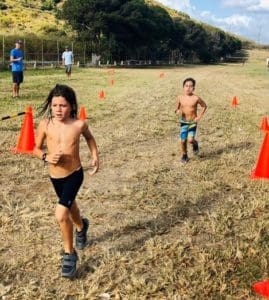 Kirra Lambert started her race with her brother, Mason, and Kaeden Gleason, who were doing double the distance of the 12-15 category. Although Kirra was racing alone for the 200-meter swim, 3-mile bike and 1-mile run, she pushed the pace for her entire race. Her total time was 31:20. Mason followed behind Kaeden for their 400-meter swim, but then they hung together for the entire 6-mile bike ride. Although Mason outran Kaeden by 15 seconds on the (sub) 2-mile run, they both posted run times under a 7 min./mile pace.
The next Junior Tri VI event will take place on Oct. 6 with a duathlon (run/bike/run) at Altona Lagoon. For more information on multi-sport events for juniors, call 513-2707.
March 3, 2019 Junior Tri VI March Madness Triathlon at Cramer's Park, St. Croix (sunny and breezy)
5-6 year-olds/ 25m swim/.5 mile bike/.25 mile run/ TOTAL
1 Hudson Mirocha 0:08:59 0:01:28 0:06:45 0:05:17 0:08:59 0:02:14
2 Miles Kantowski 0:10:27 0:01:42 0:07:51 0:06:09 0:10:27 0:02:36
3 Ramsey Adams 0:11:41 0:01:06 0:08:43 0:07:37 0:11:41 0:02:58
4 London Curran 0:14:01 0:01:20 0:10:58 0:09:38 0:14:01 0:03:03
7-8 year-olds/ 50m swim/.5 mile bike/.5 mile run
1 Kai Tanguay 0:09:00 0:01:17 0:05:34 0:04:17 0:09:00 0:03:26
2 Henry Collins 0:09:02 0:01:19 0:05:45 0:04:26 0:09:02 0:03:17
3 Bjorn Stutzman 0:09:38 0:01:20 0:05:47 0:04:27 0:09:38 0:03:51
4 Beckett Archambault 0:09:52 0:01:35 0:06:11 0:04:36 0:09:52 0:03:41
5 Priscila Sharmouj 0:10:24 0:01:40 0:06:44 0:05:04 0:10:24 0:03:40
6 Nicholas Colmenares 0:10:38 0:01:29 0:06:20 0:04:51 0:10:38 0:04:18
7 Ezekiel Tutein 0:10:50 0:01:49 0:06:50 0:05:01 0:10:50 0:04:00
8 Chad Lewis 0:12:26 0:01:57 0:07:46 0:05:49 0:12:26 0:04:40
9 Charlise Morris 0:13:13 0:01:42 0:08:45 0:07:03 0:13:13 0:04:28
10 Niah Spitz 0:14:15 0:01:49 0:08:46 0:06:57 0:14:15 0:05:29
Avery Adams DNF 0:01:22
9-11 year-olds/ 100m swim/1 mile bike/.5 mile run
1 Joseph Freeman 0:12:59 0:02:20 0:10:03 0:07:43 0:12:59 0:02:56
2 Teague Gleason 0:13:13 0:02:34 0:09:35 0:07:01 0:13:13 0:03:38
3 Candace Felix 0:13:41 0:02:38 0:10:17 0:07:39 0:13:41 0:03:24
4 Kalonji von Schilling-Royer 0:14:50 0:02:30 0:10:44 0:08:14 0:14:50 0:04:06
5 Macy Kirsehweng 0:15:40 0:02:50 0:11:07 0:08:17 0:15:40 0:04:33
6 Joanne McJunkin 0:16:33 0:02:58 0:12:26 0:09:28 0:16:33 0:04:07
7 Hana Bronstein 0:16:56 0:03:23 0:12:31 0:09:08 0:16:56 0:04:25
8 Taj Washburn 0:20:40 0:04:15 0:14:15 0:10:00 0:20:40 0:06:25
12-15 yr olds200 mt swim/3 mile bike/1 mile run
1 Kirra Lambert 0:31:20 0:05:20 0:24:33 0:19:13 0:31:20 0:06:47
Elite Junior 400m swim/6 mile bike/2 mile run
1 Mason Lambert 0:42:04 0:06:11 0:30:50 0:24:39 0:42:04 0:11:14
2 Kaeden Gleason 0:42:19 0:06:09 0:30:50 0:24:41 0:42:19 0:11:29