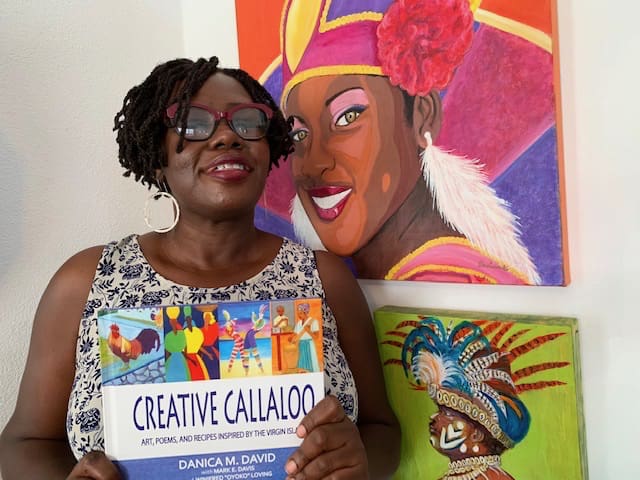 St. Croix artist Danica David has released a new book, "Creative Callaloo," which celebrates Crucian culture in words and art.
"I poured my heart and soul into this book" David said. She designed "Creative Callaloo" from cover to cover.
"I even studied color theory to learn what colors go best with food and which colors make food more appealing. You'll notice I don't use much yellow in the food photographs," she said.
The book was published by Editorial Campana and released just in time for Christmas. As Amazon shipped out copies across the United States, St. Croix's local bookshop, Undercover Books & Gifts, sold and gift wrapped a slew, some for islanders and some destined for friends and family afar.
Just about everyone attending David's Dec. 20 book signing at Undercover Books took home a copy.
"Creative Callaloo," a colorful and elegant 80-page hardback of "art, poems, and recipes inspired by the Virgin Islands," includes a short history of the islands, the people, and the traditions. David also writes about and pays tribute to her great grandmother and her grandmother.
Apple Gidley, author of "Fireburn" and "Expat Life Slice by Slice," wrote the forward.
David's paintings of Virgin Islanders – a market lady, carnival women in elaborate headdresses and one wearing a large straw hat, three historic Queens (Queen Mary, Agnes, and Mathilda), student musicians playing trombone, and a reggae musician at the stand-up bass – introduce readers to the people of the territory, past and present. Her mocko jumbies, churches, and roosters depict Virgin Islands culture, as do her photographs of local foods.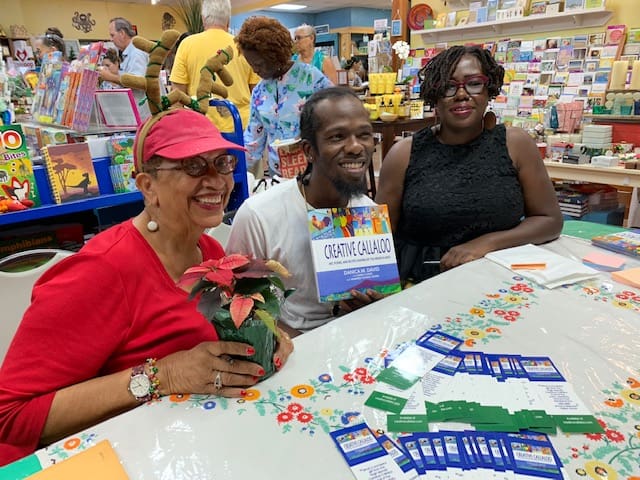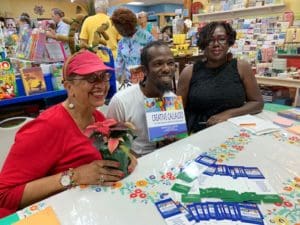 David collaborated with poet Winifred "Oyoko" Loving, who contributed poetry for the book, and with chef Mark E. Davis who created most of the recipes.
"When I read Oyoko's book 'Spontaneous,' I fell in love with her poems. Reading them, I felt as if I were reading about my artwork," said David.
Loving's poems inspired her to put together a book. She contacted Loving and suggested they collaborate.
"Oyoko did not hesitate," David said.
Not only did Loving share the poems from "Spontaneous" that had resonated with David and seemed related to her art, she wrote new poems for other paintings.
"I would show Oyoko a painting that I intended to include, and she would write a poem. It would be perfect," said David.
It occurred to Loving and David that Virgin Islands food belonged in their book.
"And I thought, 'Hey wait a minute! We need to add food and my cousin is a chef!'" David said. Thus, Mark E. Davis came onboard, enthusiastic from the start.
Culinary ambassador for the Virgin Islands Environmental Program to Stimulate Competitive Research, Davis advocates safe cooking and lionfish preparation, according to his bio in "Creative Callaloo."
Although David and Loving concocted the book's Virgin Islands Homegrown Salad, and David added her recipes for Crucian Cupcakes, Banana Pumpkin Baked Fritters, Pumpkin Carrot Bread, and Strand Street Hibiscus Punch, Davis came up with the bulk of the recipes. He made his dishes for the artist and the poet, and they taste-tested each one.
Davis brought them a gallon of Super-filling Chlorophyll; he cooked Blackened Lionfish and a latin appetizer he calls Talones. The two women tried and loved them. They tested his limeade, his Vegan Callaloo, his Creole Ay Ay, and his Plantain Mash and gave Davis a spirited thumbs-up.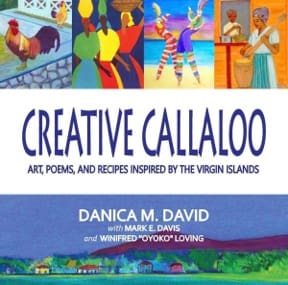 David wrote lines of inspiration to accompany some of her artwork. Next to a painting of a carnival lady in feathers and spangles, David wrote "Stop hiding behind that mask. Get to know who you are. You are beautiful. You are loved. Believe it, claim it, walk in it, live it."
She said that she wants to encourage young women and men.
"It took me a long time to realize that I am beautiful, to feel confident," she said.
She credits local artists Elisa MacKay, Yemaya Jones, Marcia Jameson and John Jones for having inspired her. They are her role models.
"I can call them up and receive encouraging words, especially from John Jones," David said. "My classroom is his former room."
David teaches art at St. Croix Educational Complex and instructs part-time at the University of the Virgin Islands. She involves her students in extracurricular activities as often as possible. For the past three years, her high school students have put out the Virgin Islands Cultural Contributors calendar that features 12 months of art and interviews with artists of varying genres. Stanley and the Ten Sleepless Knights made the 2019 cover. Proceeds from calendar sales will go toward a trip to New York, where the students will visit museums and look at colleges.
When David taught sixth graders at Eulalie Rivera Elementary School, she entered them in the Youth Super Chef Competition for World Food Day. It was the first time she worked together with her cousin, Davis, who taught them how to cook an appetizer, entree and desert.
In turn, David acknowledges her own art teachers – Gail Widmer, the late Anselm Richards, and Albert Hazard – for having "cultivated my love for art when I attended St. Croix Central High School."
David describes her style as contemporary graphic art, bright and bold.
"My signature is the bright colors; my art has to have a bold kick to it," she said. "You want something that stands out. That's how I feel best as an artist."
Several publications have featured David's work, including Apple Gidley's "Fireburn," for which she painted the cover, and Charlene Abramson Joseph's children's book "The Vienna Mystery." She plans to begin work on a children's book of her own shortly.
As well as "Spontaneous," Loving has published another book of poetry, "Remember When," and three children's books.
While "Creative Callaloo" is Davis' first publication, the young chef has served such celebrities as Denzel Washington and others.
"I'd like to do more writing … as long as it includes art," David said.