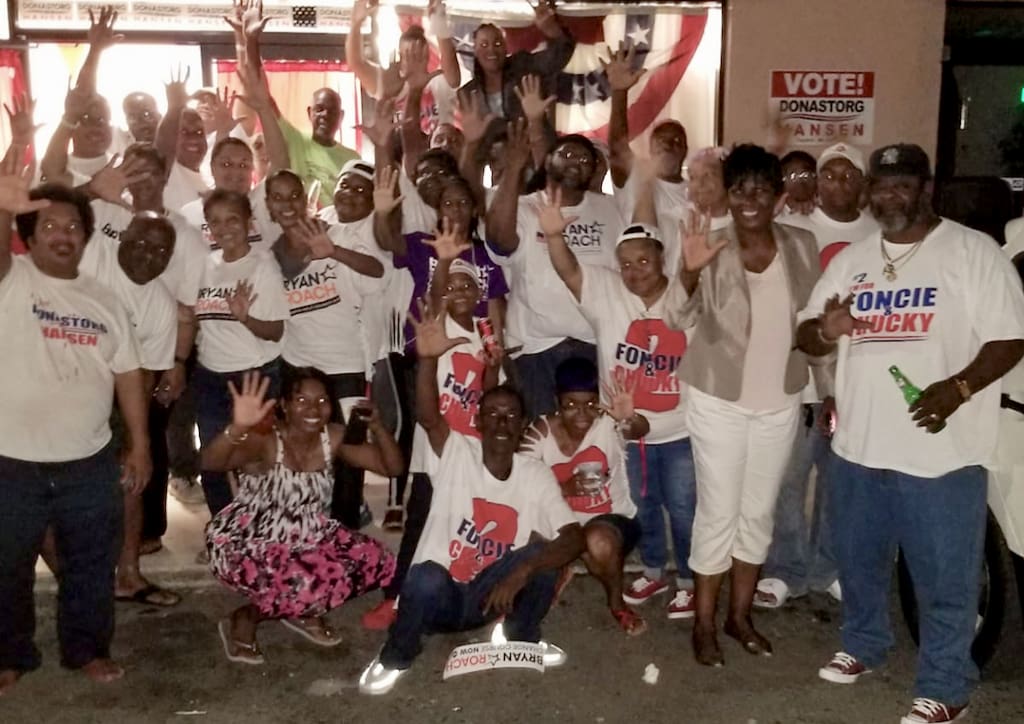 Sen. Alicia "Chucky" Hansen has joined those endorsing Democrats Albert Bryan and running mate Sen. Tregenza Roach in the runoff election for governor Tuesday.
Early voting starts this weekend.
Hansen, an 11-term St. Croix legislator, was Adlah "Foncie" Donastorg's running mate for governor on Nov. 6. Donastorg is a former St. Thomas legislator and has run for governor four times.
Donastorg, the top of the ticket, has not weighed in. Their ticket came in third with 16 percent of the vote territory-wide. In the St. Thomas-St. John district, the Donastorg/Hansen ticket came in second to Bryan-Roach, with 25 percent of the election-night ballots, leaving incumbents Kenneth Mapp and Osbert Potter in third place. On St. Croix, Mapp came in first with just under 50 percent of the vote; Bryan/Roach second with 23 percent, and Donastorg/Hansen third with 15 percent.
Hansen, who the Source has been sharply critical of in the past (See "Related Stories," below.), started off the announcement at her campaign headquarters by offering heartfelt gratitude to her supporters for the 22 years that she has been their senator. As the crowd awaited the announcement of her decision, Hansen said "we need a better government. I thought and decided to support Albert Bryan and Tregenza Roach."
Bryan then entered the room as the crowd erupted into enthusiastic applause and emotional hugs for him and Hansen.
"Welcome to our palace," said one supporter, according to a statement from the Bryan campaign.
In accepting the endorsement, Bryan said he has long admired the senator for her deep passion for the people of the Virgin Islands and was "overwhelmed" by the support.
Speaking to the crowd, he said, "We have to make sure that we have a government that is empathetic, that cares about people that is not only headed by somebody who has vision and compassion for the people but is bolstered by strong people like you and the good Senator Chucky Hansen."
Fourth-place finisher Warren Mosler has made a point of not directly endorsing Bryan but said he continues "to advise against voting for Gov. Mapp under any circumstances."
His running-mate, Ray Fonseca, endorsed Mapp, arguing that Mapp did well after the hurricanes, can be trusted to "solve" the pension crisis, would "check" the Democrats who control the Legislature and would prevent political layoffs that might come with a new administration. While Bryan has not pronounced he will terminate Mapp appointees on a wholesale basis, it has been a common practice, up to and including when Mapp did so in 2015.