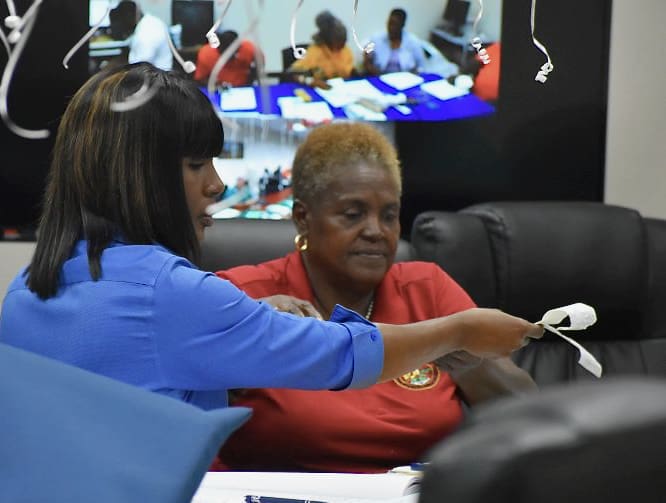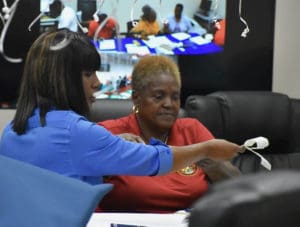 After hours of waiting and speculation, the unofficial general election results point toward a gubernatorial runoff between incumbent Kenneth Mapp and Democratic challenger Albert Bryan, which has been scheduled for Nov. 20.
Numbers posted on the Election System website show Bryan and running mate Tregenza Roach with 8,691 votes to 8,188 votes for Mapp and Lt. Gov. Osbert Potter. Separate numbers texted to the Source by officials after 10 p.m. show a wider lead, with Bryan-Roach at 9,265 and Mapp-Potter at 8,271.
To avoid a runoff, one team would have had to receive a majority – 50 percent plus one – of votes cast Tuesday night, and both teams stayed under 40 percent. Meanwhile, at Elections offices on both islands, there was a debate for some time over the actual numbers, since one set posted on the website was done without authorization from the Elections board and out of sync with protocols agreed on by the board.
According to the numbers texted to the Source, gubernatorial candidate Adlah "Foncie" Donastorg received 4,014 votes Tuesday, followed by Warren Mosler with 1,168, Soraya Diase Coffelt with 1,147 votes, and Janette Millin Young with 225.
"I think it was what everyone predicted," Potter said after the results came in. "I know we were prepared for another two weeks of campaigning, and that starts with first taking an analysis of this campaign. We have a story to tell, we're going to continue telling it, and it focuses on how poised the Virgin Islands is right now to stabilize its economy and get a stronger infrastructure going now that the finances and federal dollars have been secured."
Gathering with his team on St. Croix, Bryan spoke about the other side of that story.
"I think people really realized that we've been doing the same things over and over again," he said. "We had two hurricanes that wiped out everything and I think that's a signal to us that we need to build back differently. This governor hasn't really accomplished what he said he would over the past four years and now with the hurricane money we are managing, this is not the time to squander away our future."
Confusion over the numbers posted online were a glitch that frustrated at least one Board of Elections member.
Asked during the counting Tuesday whether the results would be posted online before copies were handed out to community members monitoring at Elections' headquarters, board chair Arturo Watlington, Jr. said "no," but was surprised a few minutes later when results did appear on the system's website, posted by a technician without the board's knowledge. As it turned out, those results were incorrect, merging data from both districts before all the final numbers were in.
Watlington expressed frustration with the process afterward, telling the Source that a system was put in place to avoid any challenges afterward, especially since a runoff was predicted.
As the teams prepare to face off, Watlington spoke separately about another issue that may soon need to be tackled: a video posted on Facebook by a poll watcher that shows Mapp-Potter campaigners allegedly interacting with voters inside the polling sites, which Watlington said is against Elections' policy.
"It could have happened because of the close quarters of some of the polling sites, particularly at the Lockhart Elementary School and Charles W. Turnbull Library," he explained. "Either way, it should not have been done. Making contact with voters inside anywhere should not have happened, and I'm disappointed that we're hearing it did."