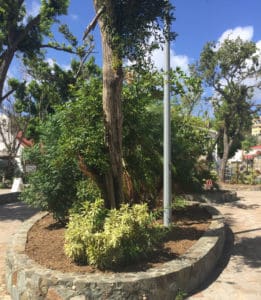 Double-chipped hurricane vegetative material, or mulch, is available for pick-up on St. Croix, once again, according to Commissioner of Agriculture Carlos Robles.
"The first delivery of mulch to the department grounds was collected by St. Croix residents within hours of distribution, which showed the great demand for the material," said Robles. "We have worked with the parties involved and have secured an additional 3,000 cubic yards of mulch."
Farmers and homeowners are encouraged to collect and use the mulch for its many benefits, including weed control, moisture retention, soil improvement and plant nutrients.
Mulch can be obtained from the Rudolph E. Shulterbrandt Agriculture Complex in Estate Lower Love between 7:30 and 11 a.m. and between noon and 3:30 p.m., Tuesdays and Thursdays. Beginning Thursday, Oct. 25, assistance with loading will be provided for persons with small trucks. Persons who do not require assistance with loading may collect mulch Monday through Friday from 8 a.m. to noon and 1-5 p.m. Residents must bring their own vehicles, shovels and other necessary equipment for pick-up.
Persons who need larger quantities of mulch can visit the Estate Body Slob mulch site between 8 a.m. and 2:30 p.m., Wednesdays and Fridays, beginning Friday, Oct. 26. Agriculture staff will assist with loading. They should contact the department to arrange for assistance.
A release of liability must be signed before mulch collection. The department encourages all interested persons to take advantage of this opportunity to acquire valuable organic material to improve their landscapes, gardens and farms.
For more information, contact the Department of Agriculture on St. Croix at 778-0997.