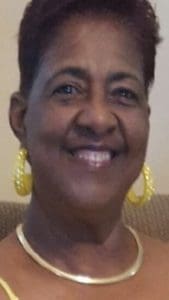 Charlene M. Todmann-Hendricks, also known as "Michele," of Christiansted, St. Croix, died on Oct. 12. She was 63 years old.
She is survived by her husband, Gilbert Hendricks Sr.; daughters: Erica Hendricks, Eurece Hendricks and Tricia Hendricks; grandchildren: Dale Carrington Sr., Erin Carrington, De Lani Carrington, Larece Williams, Gilbert Hendricks III, Ashande and Ashanti Edwards; great-grandchild, Dale Carrington Jr.; daughter-in-law, La Toya Bunn; and sisters: Dutchelle Drummond, Etta Todmann and Ulette Todmann-Hodge.
She is also survived by brothers: Dawes and Michael Todmann; nieces: Alexis Leycock, Lana Liburd, Jovina Drummond, Joanne Drummond and Jovianna Drummond; nephews: Dawes Todmann, Michael Christiensen, Theo Todmann, St. Clair Liburd Jr., Jovan Drummond Sr., Ernie Drummond Jr., Khasim Rivera, Kimari Jackson and Okimba Williams; and aunts: Kay O'Reilly, Marsha Charles, Sherilyn O'Reilly and Paulette O'Reilly.
Other survivors include uncles: Burton O'Reilly Sr., Rudy O'Reilly, Raymond O'Reilly and Gadwin Roebuck; special friends: Sandra Hendrington, Gloryvee Christian-Krieger, Shermaine Samuel, Clerean Thomas, Leo Jackson, Sherline Nathaniel and others too numerous to mention; cousins and other relatives: Olaf Hendricks and family, Joy Perez and family, the Roebuck family, the Liburd family, the Hendricks family, and others too numerous to mention.
Memorial services will take place at the Lord God of Sabaoth Lutheran Church on Saturday, Oct. 27, with tributes at 9 a.m. and the service at 10 a.m.
The family requests that attendees wear pink or orange.
In lieu of flowers, please make donations to the TSK Scholarship Fund in c/o Eurece Hendricks, 4018 Little Princesse, Christiansted VI 00820.
Cremation arrangements are entrusted to Schuster's Crematorium LLC.