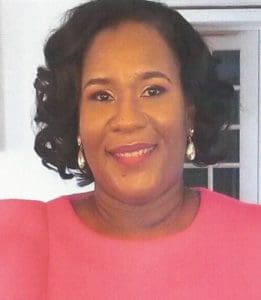 Shermaine Jack, also known as "Sherm," of Anna's Hope Villas died on Monday, Oct. 8. She was 48 years old.
She was preceded in death by her granddaughter, Sade'ah Seeram.
She is survived by her companion, Alfredo Edwards; mother, Leova Harris; stepfather, Vernon Southwell; daughters: Shakeda Archibald, Khendrah Simmonds and Kheyandrah Simmonds; son, Thomas Lee Dortch Jr.; grandchildren: Xendia and Shanairy Dortch, T'jharie and Te'jai Dortch, Shalayah Galloway and Randy Seeram Jr.; sisters: Wanda Harris, Diane Jack, Erica Miller, Gleneva Berkley, Sandra Andrews, Giselle Ambrose and Corine Gilbert; and brothers: Steve Jack, Sherman Jack, Malcolm Hughes, Wanson Harris, Xavier Jack and Anthony Jack.
She is also survived by nieces: Rashawna Christopher, Khaliah Jack, Miracle and Heavenly Richards, Shamara Paris, N'Kayla, N'Kia, N'Koya and Stephany Hughes, Wanisha, Mariah, T'Saday and Khalessi Harris, Labrittany, Jatoria and Sherymia Jack, and Aniyah Kelly; nephews: Kamar, Kemoi and Kai Christopher, Caleb Harris, Massiah Richards, Sherman Jack Jr., Deontanee Jack and Jamarion Jack; uncle, Ralph Herbert; daughters-in-law: Diniqua Brewster and Jovetny Bruce; son-in-law, Randy Seeram; and sisters-in-law: Rayna Harris, Maria Carmona-Walters, Tijuana Kelly and Victoria Jack
Other survivors include godparent, Brenda Bastian; special friends: Jacklyn Menders, Elsa Williams, Juanita Velasques, Dorothy Weeks, Carolyn Galloway, Rahsan Foster, DMV Family, Victoria, Benadict and Joyette Baptiste, Michaelina Henry, Janette Pringle, Juicy, Carmen and Clarence Simmonds, and David Archibald; cousins and other relatives: Springer family, Granville family, Ras-Jasia, Tafari, Dwayne, Wayne, William and Warren Woodrup, Arnold Woodrup, Evelyn Herbert, Mosis Mason, Dashawn, Caleb, Indy St. Prix, Irene Cornelius, Juliete Lloyd, Sylvia Farrow and the Tonge family; as well as other relatives and friends too numerous to mention.
The viewing will take place at 9 a.m. followed by a funeral service at 10 a.m., Thursday, Oct. 18, at Victorious Believers Ministries. Interment will be at Kingshill Cemetery.