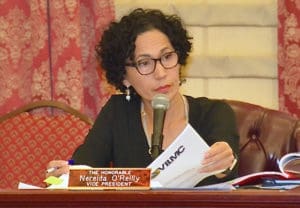 If bills approved in committee this week become law, Optometrists, not just medical ophthalmologists, may treat glaucoma, and dental therapists may be allowed to perform simpler, less risky treatments formerly reserved for licensed dentists.
Sen. Nereida Rivera-O'Reilly (D-STX) sponsored both bills, which aim to expand availability of care to Virgin Islanders and lower potential costs. V.I. ophthalmologists and dentists largely opposed the measures.
Glaucoma is a disease of the eye where high pressure in the liquid within the eye damages the eye and threatens sight. It is prevalent among persons of African descent.
At Wednesday's Health, Hospitals and Human Services Committee hearing, Rivera-O'Reilly said an earlier law excluded optometrists from treating glaucoma "due to objection from ophthalmologists."
She said 49 states, "all but Massachusetts have legislation to allow optometrists" to treat glaucoma. "It is clearly a turf war. … The only reason why change is opposed is because of money," she said.
St. Croix Optometrist Lisa Adams said patients would benefit from expanding the availability of providers to treat a high incidence of glaucoma.
"By granting this prescriptive authority of therapeutics in the Virgin Islands, it would bring the practice of optometry on par with the nation," Adams said.
However, V.I. Health Commissioner Michelle Davis urged senators to table the change for now.
"The key concern is that any plans to further expand the scope of practice for CTOs must include a fully appointed and active Optometry Board prepared to regulate the scope of any expansion," Davis said in written testimony.
Rivera-O'Reilly said those with insurance can get dental care but for those at lower incomes and without insurance, or even those with Medicaid, patients sometimes wait years to be seen. She showed a video of a town hall at which St. Croix resident Elizabeth Hodge said she has been on a waiting list for over a year and her 15-year old child never got to see a dentist.
Dr. Olutayo Delano, representing the V.I. Board of Dental Examiners, testified against allowing dental therapists to perform dental procedures, arguing it could put patients at risk. He also said only a handful of states allow it.
Dr. Bart Eisenbarth, a dentist at the Frederiksted Health Care clinic, said the clinic does not have the capacity to meet the need for care.
"It really is a numbers issue," Eisenbarth said. On St. Croix, that clinic is essentially the only provider for those with Medicaid or with no insurance.
He said there are about 25,000 people on St. Croix with either Medicaid or no insurance.
"We have three dentists, nine chairs and three full-time equivalent hygienists. … If every chair was filled every day of the week, every day of the year, we could only see 18,000 patients. So there is not enough capacity to see the population that needs it," Eisenbarth said.
He said there are 4,000 people on the clinic's waiting list right now.
Dr. Lucien Moolenaar, chief dental officer for the St. Thomas East End Medical Center testified in support of the bill.
Sen. Janette Millin Young asked about the lack of access to dentists. Delano said the problem is not the lack of dental care access but that patients are not coming in because they pick a provider based on the referral process. Delano also said the number of dentists in the V.I. is increasing.
Moolenaar said 10 dentists accept Medicaid. Three of those are at the St. Thomas clinic and three at Frederiksted, leaving four other providers.
Davis testified against this measure. "It is premature to adopt dental therapy legislation considering that the field is still in development. The territory has successfully improved access to quality dental care in a variety of ways through licensure and adopting sound proven standards," she said.
"I don't understand the pushback," Sen. Sammuel Sanes (D-STX) said.
"Oral hygiene is critical. Poor oral hygiene can lead to a medical diagnosis that is detrimental to the health of a patient. Dental therapists can help streamline the process," he said.
A companion bill approved Thursday would add dental therapists to the board of dental examiners.
The committee also approved a bill exempting private urgent care facilities from the requirement of getting a certificate of need and mandating that these entities must accept MAP, Medicare and uninsured patients
The committee also approved a resolution honoring and commending the Family Resource Center for its service to victims and families in the U.S. Virgin Islands over the years
All bills approved will be forwarded to the Committee on Rules and Judiciary for further consideration.
Senators present were: Rivera-O'Reilly,  Sanes, Sens. Janette Millin Young (D-STT), Marvin Blyden (D-STT), Novelle Francis (D-STX)  and Dwayne DeGraff (I-STT).