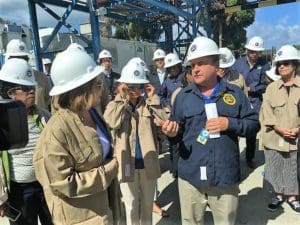 Virgin Islands Water and Power Authority (WAPA) Executive Director /CEO Lawrence J. Kupfer welcomed Congressional Delegate Stacy Plaskett, House of Representatives Democratic Leader Nancy Pelosi and several other members of the House to the Randolph Harley Power Plant on St. Thomas on Saturday afternoon.
The visit was part of the congressional delegation's stop in the Virgin Islands. Gov. Kenneth E. Mapp attended the brief power plant stop as did WAPA Governing Board Vice-Chairman Hubert Turnbull and Board Secretary Juanita Young. The visit by the congressional leaders was aimed at providing first hand insight into the challenges that continue to affect the territory in the aftermath of the 2017 hurricanes.
Kupfer presented an overview of how mitigation funding provided by Federal Emergency Management Agency (FEMA) and grant funding from the U.S. Housing and Urban Development Agency are being spent on projects to rebuild a more resilient electric grid, to implement projects to minimize the extensive damage to overhead cables and facilities through undergrounding, and to add more renewables to the electric system to reduce the reliance on fossil fuels.
"FEMA has already obligated more than $600 million in mitigation projects, and we continue to work with Governor Mapp on the use of HUD grant money provided the territory for additional undertakings at WAPA, including use of the Housing and Urban Development (HUD) funding to meet the local match on many of the mitigation projects," he said.
Additionally, the congressional representatives had the opportunity to see the work that is underway to bring three new generating units on-line. The new Wartsila units represent WAPA's first acquisition of new generation since 2004. It is in line with WAPA's Integrated Resource Plan, which calls for smaller, right-sized, efficient units. Once commissioned at the end of this year, the three new units will burn LPG to produce up to 21 megawatts of electricity for the St. Thomas-St. John District.
Pelosi spoke of the delegation's commitment to work to reduce the cost of electrical service in the territory. "It's stunning, the cost that hurts entrepreneurism, it hurts the family budget, and we want to reduce that cost."
In addition to Plaskett and Pelosi, the delegation included: Luis Gutierrez, (D-Illinois); Nydia Velazquez, (D-New York); Sheila Jackson-Lee, (D-Texas); Gregory Meeks, (D-New York); Betty McCollum, (D-Minnesota); Terri Sewell, (D-Alabama); Michelle Lujan Grisham, (D-New Mexico); Raul Ruiz, (D-California); Robin Kelly, (D-Illinois); Dwight Evans, (D-Pennsylvania); Val Demings, (D-Florida); and Adriano Espaillat, (D-New York).