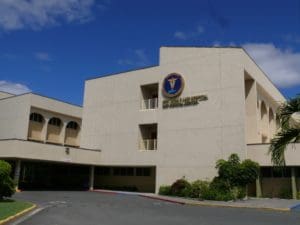 Wanda Ruben, chief executive officer Gov. Juan F. Luis Hospital and Medical Center, blamed the hospital's previous administration for the financial crisis the hospital is in, alluding to the possibility of criminal charges.
However, at Monday's Senate budget hearing, Sens. Kurt Vialet and Nereida Rivera-O'Reilly were not ready to buy completely into that argument.
Vialet wanted to know why the present team running the hospital was not able to collect federal money for health services from November through May.
"You lost millions and millions of dollar. We have a unique situation where we can be reimbursed 100 per cent," he said.
O'Reilly had concerns about doctors' use of hospital facilities.
"I know doctors are using the hospital for their private practice," she said.
O'Reilly asked if it was customary for doctors, when using the hospital, to pay a lease or if they were guilty of a crime doing so without a lease.
Deepak Bansal, chief financial officer, answered that the hospital administration had recently become aware of the practice and was determining what should be done. Bansal and Ruben explained the loss of medicaid reimbursement was because certain physicians did not have the correct credentials and said the issue had been corrected. Ruben said she didn't see the reimbursements as being lost yet because the hospital was filing back claims and has asked for an extension to file those more than 30 days old.
All the senators agreed the hospital had financial problems.
"It is a crisis, to say the least," Sen. Brian Smith said.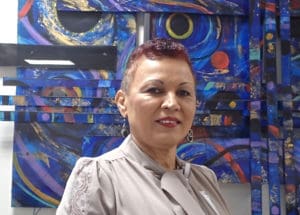 In her criticism of the previous hospital administration, Ruben said, "This administration inherited a dysfunctional finance department. This dysfunction includes but it is not limited to lack of proper management, record keeping and adherence to lawful financial best business practice. There was also no transfer of knowledge nor was documentation available from the previous administration to the new administration."
Vialet followed up on this line after he was told by Bansal all the contracts that the hospital had with vendors could not be located. Vialet asked if the two hospital attorneys who had been terminated by the new administration had been requested to turn over all the documents.
One of the attorneys terminated was Richard Evangelista, who served as interim head for a little over a year until Ruben was appointed last October. Before Evangelista, Ken Okolo was removed in May 2016 after only serving six months. He had replaced Dr. Kendall Griffin, who returned to private practice.
Some of the blame for the hospital's revenue problems was placed on last year's hurricanes.
"The hospital completely lost its outpatient dialysis services, and the operating room operations shrank to only those cases that were emergencies. The emergency room, med/surgery units, PCU units, and ICU units also suffered damage, and JFLH's census fell by more than 50 percent. This drop in census and other outpatient services has severely impacted JFLH's finances," Ruben said.
She added hospital continued to suffer low use because many residents think the hospital was closed. She said her administration was doing everything it could to get the word out it was open.
According to testimony, the hospital presently has a total outstanding debt of $69 million. The top debts are 1) $19 million owed to Virgin Islands Bureau of Internal Revenue; 2) $10.8 million to Government Retirement Systems; and 3) $13.7 million to Water and Power Authority.
Ruben said she wanted to bring to the Senate's attention that the annual allotment from the government does not even cover the hospital's uncompensated care costs.
"GVI appropriation was $24 million and $28.3 million in FY 2017 and 2016, respectively. Uncompensated care was approximated as $32.4 million and $31 million for the same time period," she said.
The governor's recommended budget request for the upcoming fiscal year is $21.9 million.
The projected operating budget for the hospital in 2019 is $69.8 million The breakdown is $24.7 million for personnel services, $18.9 million for fringe benefits, $9.4 million for supplies, $2.3 million for utility services, and $14.5 million for other services and charges.
In January the hospital contracted a consultant to assess policies and procedures to ensure revenue collection was being maximized. According to Ruben, the consultant discovered discrepancies in management of the Medicaid funds. The consultant report alleges potential mishandling of Medicaid funds due to irregularities in billing practices. The consultant's report alleges that the billing irregularities may have been done intentionally.
Ruben forward the information in the report to the U.S. Department of Interior; the U.S. Attorney's Office; and the Office of the Inspector General of the U.S. Department of Health and Human Services.
Senators present at Monday's informational hearing were Vialet, Smith, Neville James, Dwayne DeGraff, Tregenza Roach, Marvin Blyden, Myron Jackson and O'Reilly.