Senators voted Monday to hold in committee a bill that would change the size and make-up of the V.I. Legislature, a proposal that is similar in intent, but different in several ways, from another call for reapportionment led by a government retirees group.
Sen. Positive T. A. Nelson sponsored the bill held Monday by the Committee on Government Affairs, Veterans, Energy and the Environment. Committee chairman Sen. Sammuel Sanes first recommended the bill be forwarded to the Senate Committee of the Whole, but members concluded that smaller committee hearings should first be held on all three islands to collect a wide range of public input and make any needed amendments.
A separate senate reapportionment initiative proposed by St. Croix Government Retirees Inc. is still gathering the petition signatures to determine whether it will be a ballot item in the 2018 election.
The two proposals have differences. Nelson's bill would shrink the Legislature from 15 to 11 members, three elected in the St. Croix district, three elected from the St. Thomas-St. John district (with one required to be a resident of St. John), and five elected as at-large representatives.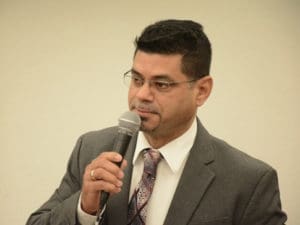 The plan proposed by St. Croix Government Retirees Inc. keeps the number of senators at 15 but proposes nine of them be elected by smaller districts to include the East and West sides of St. Thomas and St. Croix, and St. John as its own district. The remaining six would be elected as at-large senators, three mandated to live on St. Croix, and three on St. Thomas-St. John.
In April the Titling Board of the Virgin Islands approved the wording for a ballot question on the plan. Before it can be officially added, a petition must be signed by at least 10 percent of the each district's registered voters.
Mary Moorhead, president of St. Croix Government Retirees Inc., declined to testify on Nelson's bill Monday. In a letter to committee chairman Sanes she said she did not want to contribute to a discussion she felt would add "confusion and misunderstanding" to the reapportionment push her group is advocating.
Moorhead said she initially planned to collaborate with Nelson on a reapportionment bill, but as early as 2013 disagreements arose. One disagreement, she said, was that Nelson did not think St. John should constitute its own district.
Nelson initially drafted his reapportionment bill in the 31st Legislature, but no hearings were held on the matter. He said bringing the bill up again now should not be misconstrued as "political grandstanding" but as an attempt to get senators to pay attention to the issue.
"We've had five failed constitutional conventions. Don't blame Positive for that. It's our inability to come together. And I'm telling you that the issue here is representative responsiveness."
In 2000, a non-binding referendum to reduce the size of the V.I. Legislature passed with more than 87 percent of the vote. The Revised Organic Act gives the Legislature the authority to determine its size and to some extent its representative makeup, but the body has not been reapportioned since 1966 when a vote passed to increase the number of senators from 11 to 15.
According to the 2000 referendum, voters in that election preferred the number of senators to be nine, as opposed to the other options presented, 15 or 11.
Moorhead was not the only invited testifier to be missing from Monday's committee hearing. The heads of the territory's Democratic and Republican Parties did not attend or reply to the committee's invitation. The ICM Party sent its vice-chairwoman Jacquel Dawson to give testimony, in which the party said it does not support the passage of the bill.
Supervisor of Elections Caroline Fawkes and Chief Deputy Attorney General Joseph Ponteen also testified, but only to provide background and speak of the feasibility of the bill, not its merits.
Dawson said the ICM's opposition to the bill is due to possible consequences of reducing the number of senators. Such a move could lead to increased corruption, and would concentrate power in fewer hands, she said.
"There [would be] less people to make a quorum, and even fewer people needed to vote in legislation," said Dawson.
She added the ICM favors reducing the salaries of senators.
Most committee members agreed that reducing the size of the Legislature could have negative effects.
Sen. Marvin Blyden said he looked forward to hearing more opinions on the bill "but as of now I just see it as lessening the power of the people."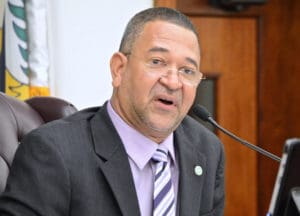 Sen. Jean Forde agreed that shrinking the legislative branch amounts to empowering the executive branch.
Forde pointed out that when the Legislature was established with 11 members, the V.I. population was less than 30,000. By the time it was increased to its current size in the 1960s, the population had increased to more than 50,000.
"It seems ludicrous that when we now have a population of 106,000 persons that we want to go back down to 11 or less. Somehow that logic I am not following," he said.
Sen. Tregenza Roach had a different concern. He said having more at-large senators in the V.I. might inadvertently favor incumbents since campaigning across multiple islands is more difficult than campaigning within island districts. He said more at-large campaigns might end up being a disadvantage for candidates without resources and name recognition.
Lowering senators' salaries, on the other hand, was little discussed, although Sens. Janette Millin Young and Nereida Rivera-O'Reilly both said they feel pay is correct for duties performed.
They said that because the V.I. Legislature is a unicameral body, and the territory lacks a municipal layer of government, senators have many more responsibilities than the average state legislator, nearly all of whom make less than V.I. senators' $85,000 salary.
"I don't believe that people who go out to vote for senators – I don't believe people who want to be senators – really know what it takes to do this job," said O'Reilly, one of several members of the 32nd Legislature not seeking re-election.
O'Reilly said having more at-large seats is worth considering, though.
"I would love to be elected territory-wide," she said. "It pains me when I have to vote on a measure rezoning a piece of property on St. Thomas-St. John that is going to impact the lives of those people residing adjacent to it, and I don't live here."
Chief Deputy Attorney General Joseph Ponteen said the AG's Office found nothing in Nelson's bill that is beyond the Legislature's authority or is constitutionally unsound. Although the AG's Office is neutral on the matter, Ponteen said some non-legal issues may arise if the bill is passed.
"Of course, some may argue that it may be disproportionate if the five at-large senators all reside on one island or another, thereby having a situation where there would be eight senators from St. Croix and only three from the St. Thomas-St. John district," he said.
Ponteen said, however, that a similar argument was "resoundingly defeated" in the case Markoe vs. the Legislature of the Virgin Islands. The Court ruled that at-large senators cannot be viewed from a legal standpoint as representatives of only the district in which they reside.
Sen. Blyden asked the rhetorical question of whether the court's stance reflects the reality of how V.I. politics functions at a practical level.
Imbalances in island or district representation have been raised in political debates in the territory since before the islands' transfer to the United States. Nelson said one of his reasons for tackling reapportionment is that he feels the current practice – not legally mandated by the Organic Act – of electing an at-large senator who lives on St. John tilts the balance of power in the legislature towards the St. Thomas-St. John district. But St. John residents frequently cite as unfair the fact that their only on-island representative is at-large and must campaign heavily on St. Croix.
When it came time to vote to hold the bill in committee Sens. Blyden, Forde, O'Reilly, Roach, Millin Young and Sanes all voted yes. Sen. Alicia "Chucky" Hansen was absent from the hearing.