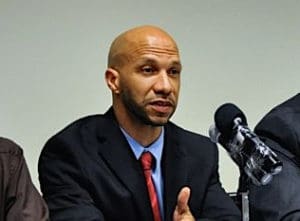 Schneider Regional Medical Center has never run out of a ready supply of blood for transfusions, hospital officials said on Monday, nor has it ever lost a life as a result of inadequate supply.
"We always have had and maintained adequate supplies to provide blood to any patients in need whether emergently or otherwise," said Chief Medical Officer Luis Amaro.
"We have processes in place that are always able to provide those products and save lives as we've always done. We've never had any issue with saving lives as it relates to blood product provisions or having enough or adequate supply," Amaro said.
Monday's statement came two weeks after the death of a St. Thomas local was linked to the hospital's inability to take in locally donated blood and caused a panic on Facebook. On June 16, Facebook user Craig Draper posted a call for blood donors to come immediately to Schneider Hospital where they "can save a life." Six minutes later, Draper commented with an update that Schneider was "unable to take donations at this time. And there is no place on island that does."
What followed was a flurry on comments by residents posting various concerns, from the lack of blood for transfusions to the hospital's inability to test blood to the resulting loss of life. Schneider initially responded Thursday through a brief statement posted on its Facebook page, but officials agreed to answer questions on Monday in an effort to reassure residents.
Amaro clarified that while it is true that Schneider ships in blood products from off-island sources, it is far from unique in this practice. Like many hospitals across the country, he said, Schneider is neither a blood bank nor a donor facility approved by the Food and Drug Administration. It was one, roughly 10 years ago, but that practice was discontinued due to cost and federal regulations.
"It is something that we took an interest in divesting to organizations that do it all the time, as I think it should be," said Amaro.
"In order to be a blood bank, you have to go through rigorous regulations," said Delphine Olivacce, vice-president of quality and performance improvement at Schneider.
"It's quite costly, the equipment, the testing and everything so we have not been a blood donation center for quite some time," said Olivacce.
Olivacce added that Schneider Hospital does have the capability to perform the necessary blood tests to ensure that the donated blood is safe and compatible for individual patients. The hospital's laboratory and transfusion services recently underwent a joint commission accreditation survey, she said, and passed.
"So there is no issue from a regulatory standpoint related to our transfusion services," said Olivacce.
Laboratory Director Maritza Philip said the hospital currently uses various off-island vendors to get its blood supply, including the American Red Cross and Texas-based Blood Buy, which is an "online network that connects hospitals and blood centers to ensure the efficient distribution of lifesaving blood products to patients in need," according to its website.
"It's a simple process of ordering through the computer or through fax, and it gets here, say, within the same day, or within 24 hours," said Philip.
In cases of emergency, Philip said the hospital always has an adequate amount of blood on hand for various blood types "all across the board."
When asked to quantify just how much blood the hospital has available for transfusion at any given time, or what "adequate" means, Tina Comissiong, Schneider's legal counsel, stepped in to respond.
"The amount that we order is dependent on our amount of need and dependent on the patients that are being cared for at the facility," said Comissiong. "So to give you a number I don't think would necessarily be helpful."
Hospital officials also stated not only is it futile for residents to come to the hospital to donate blood, it is also unnecessary. According to Amaro, the hospital did not even have problems coping with the higher need for blood in the immediate aftermath of Hurricanes Irma and Maria.
When asked if the hospital has any plans to become an FDA-certified blood donation facility in the future, Amaro responded: "We can look into whether or not it's something we would get back into. But from time to time we want to make decision as to what we want to incorporate here as an institution, as a business … versus divest that out to organizations that do it all the time and do it to perfection and procure them in a reliable manner."