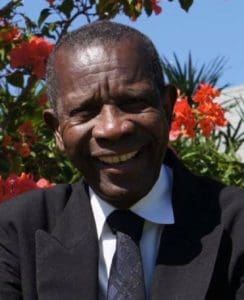 It is with a truly sad heart, on behalf of the entire Harris family: children, stepchildren, siblings, grandchildren, cousins and other family members that I announce the transition into glory of my beloved husband, Reverend Malcolm Harris.
He entered eternal rest on June 6 in Miami, Fla., at the age of 74.
He fought a good fight of faith throughout his life, and this final fight may have been his most challenging after 15 months of a severe illness.
He was preceded in death by his mother, Ianthe Bird Tucker; sister, Valerie Harris-Pole; and nephew, Steve Bloodman.
Reverend Harris is survived by his loving wife of 32 years, Pastor Teresita Harris; sons: Malcolm Harris Sr., Noel Harris, Pierre Obando (stepson) and Delmore Antonio; daughters: Evangeline Harris and Rochelle Moesch (stepdaughter); brothers: Theodore Harris (Gloria) of England, Charles Harris (Gladys) of Connecticut and Earl Harris of Florida; sisters: ¬Veronica Harris (Antigua), Icilma Harris (Antigua), Ceceile Harris-Porter (New York) and Brenda Harris-Ephraim (New York); and grandchildren: Jamal Harris, Jada Harris, Lebron Harris, Noah Harris, Nicole Moesch, James Moesch III, Lauren Moesch and Jonathan Moesch.
He is also survived by his uncle, Franklyn Challenger; nieces: Beverly Merchant Brown (Miles), Patricia Ephraim (New York), Candice Love (Micah)Texas, Sarah Jean Luxford (England), Megan Harris (Connecticut) and Crystal Archibald (David) of Antigua; nephews: Marc Browne, Lamar Browne, Deshaun Challenger (Antigua), Everton Harris (Germany), Carl Harris (Denise) of New York, Vern Harris (Valerie) of New York, David Luxford and Delroy Luxford of England and the Philo family in Antigua, Canada and the United States.
Special love and thanks to Dr. Cindy Trimm, Apostle Dennis Hilliman, Pastor Robert Cisco, Pastor Ernest Andrew, Pastor Roy Tucker, Ministers Miriam and Lefty Elliott, Dr. Vanda Espinosa, Julie Tucker, Margarita Burrowes, our Maranatha Church family and Ambassadors Worship Center family (St Croix), Ambassadors' Empowerment Center (Miami, Fla.), Ambassadors' Empowerment Global Prayer Line, Pastoral prayer team: Pastors Reginald Perry, Dexter Skepple, Gerald and Sharon McDonald, Virginia Ventura, Samuel Carrion, Apostle Estrada and Mona Barnes; as well as other friends and relatives too numerous to mention.
Thank you, family and friends, for your abiding love, your outpouring of comfort and support, your encouraging words, and, above all, your enduring prayers!
Homegoing service will be held in Miami, Fla. on Saturday, June 30. Come ready to celebrate his life! Wear vibrant colors.
If you are unable to attend but would like to be a part of the celebration, please send a written, audio, or video tribute to this email ASAP: [email protected]
The First Church of the Nazarene
17569 SW 147 Ave.
Miami, FL 33187
(786) 975-8828
Viewing/Tributes: 10-11 a.m.
Service: 11 a.m. to 12:45 p.m.
Florist: Deloris Florist & Gift Shop
14654 Lincoln Blvd.
Miami, FL 33176
(305) 971-7973