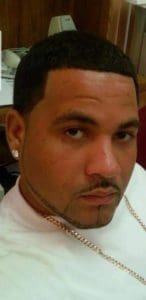 Johnny Silverio Jr. of Frederiksted, St. Croix, died on May 27. He was 38 years old.
He is survived by his parents: Maria Santiago and Johnny Silverio; daughters: Amelda Silverio and Geniyah Silverio; sons: Aiden Silverio and Jovante Silverio; sisters: Maritza De La Cruz, Mariluz Dela Cruz, Janett Santiago and Joanne Santiago; brothers: Rafel Almonte and Angel Melendez Jr.; and nieces: Bianca Almonte, Genisis Mejia, Lilien Jimenez, Liliana Santiago, Crystal De la Cruz, Yanira Hendrickson, Yahairah Hendrickson, TiashaJah Heidmann and Melodi De la Cruz.
He is also survived by nephews: Rafael Almonte Jr., Luis, Christian Soto, Kevin Soto, Corion Simmiolkjier and Elizer Denato; uncle, Angel Lopez; sisters-in-law: Jikera Leycock and Carol Almonte; as well as other relatives and friends too numerous to mention.
There will be a viewing held at 9:30 a.m. followed by funeral services at 10:30 a.m., Friday, June 8, at St. Patrick's Catholic Church. Interment will be at Frederiksted Cemetery.