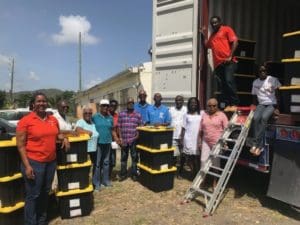 Rotary Club of St. Croix West donated over 250 disaster preparedness storage bins to the public on Sunday, June 3. The purpose of this distribution was to remind and encourage the public to prepare for the hurricane season by having an emergency supply kit.
The storage bins included a towel set, a waterproof document storage folder and information regarding disaster preparedness. The club recommends that the storage bins be used as an emergency supply kit by packing items such as water, medication, non-perishable food, batteries, flashlights, first aid kit, garbage bags, weather radio, etc. The document folders should be used to secure copies of important documents such as insurance papers, medical cards, identifications and bank records.
Jennell Bryan, president of Rotary Club of St. Croix West, said, "The hurricane seasons is upon us again. We need to be proactive by taking all the necessary preparations. Having an emergency supply kit which includes basic supplies is highly recommended."
Bryan said the club had received funding for the project from a disaster grant through Rotary District 7020. VITEMA and FEMA provided the disaster preparedness information included in the distribution.
Rotary Club of St. Croix West also sponsored uniform jerseys for the Mets Little League Tee-Ball team, which is made up of 4-6 year-olds.