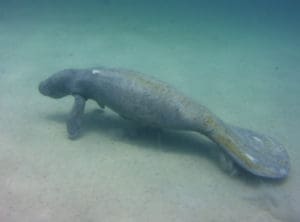 The search is still on for two manatee sighted by snorkelers in the waters around St. Croix this week, the first sighting of the species in the V.I. in decades.
The manatee are reportedly emaciated and were likely displaced from Puerto Rico, where the nearest population of manatee exists, by the 2017 hurricane season.
Tony Mignucci of the Puerto Rico Manatee Conservation Center said a manatee rescue team spent several hours Wednesday following up on a report that one of the manatee had been sighted near Frederiksted, but nothing was found.
The first of the recently sighted pair was seen on Sunday, about 150 feet south of the pier in Frederiksted. The other was spotted near Buck Island Wednesday.
Few reports have come in since the St. Croix Friends of the Park sent out an alert Thursday.
Search efforts will continue until the two manatee are located. Teams are currently scouring the waters where sightings have been reported. Aerial surveys from two privately owned aircraft have occurred.
Once the pair has been located and their health properly assessed, a net will be used to secure them on a boat, from which aerial assistance by the U.S. Coast Guard can assist in transporting them back to Puerto Rico.
"Although St. Croix has plenty of vegetation like seagrass, it is not the right habitat for the manatee. They have been displaced to an area with no freshwater, we must return them to where they belong," Mignucci said Thursday.
Additional manatee sightings can be reported to the National Park Service in St. Croix or to @manatipr.org on Facebook.