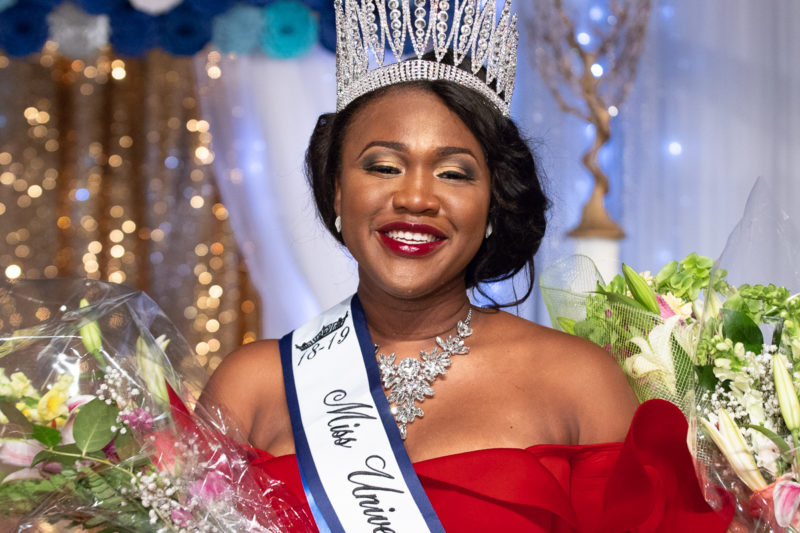 Kendra Kent won the title of Miss University of the Virgin Islands on Saturday, April 14, at the St. Croix Educational Complex Gymnasium on St. Croix. Kent won the ambassadorial competition after competing against two other contestants.
In addition to the crown, Kent, a 21-year-old junior criminal justice major, captured three of the five judged segments: Best Ambassadorial Presentation, Best Performing Talent and Best Evening Wear.
Capturing the title of Miss UVI gave me a feeling of pride," Kent said. "I was extremely proud yet surprised at myself because all of my hard work and dedication payed off. I am honored to be Miss UVI 2018-2019."
Her platform is centered around mental health/wellness awareness especially among her peers and entitled: "The Wounds Unseen."
Miss UVI Contestant Ki-Anna Tonge was named first runner-up, and Ashley Simpson was named second runner-up. Tonge was judged winner of the Miss Intellect and Best Business Wear segments.
Simpson won Miss Congeniality; Kent won Miss Photogenic; both Kent and Tonge tied for the Popularity award.
"I am so proud of all the contestants who competed for the title of Miss University of the Virgin Islands on Saturday," said Kevin Dixon, coordinator of student activities on St. Croix. "Each contestant exuded their pride for UVI and would have made an excellent ambassador for our institution. I want to congratulate Ms. Kendra Kent for securing the title of Miss UVI."
As Miss UVI, Kent will receive a scholarship for one-year tuition plus room and board valued at approximately $13,000, among other prizes. She is expected to participate in UVI's recruitment efforts, represent the university locally and abroad, and maintain a highly visible role on UVI's campuses on St. Croix and St. Thomas.
The Miss University of the Virgin Islands Ambassadorial Competition is produced by The University of the Virgin Islands Student Government Association Queens Committee.