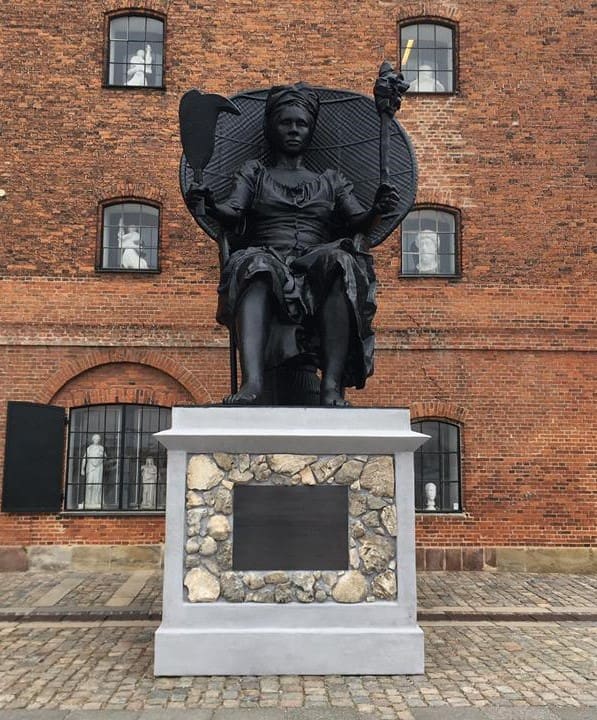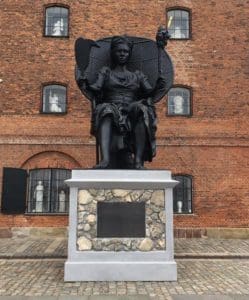 V.I. artist La Vaughn Belle and Danish artist Jeannette Ehlers unveiled their collaborative monument to 19th-century St. Croix leader Queen Mary Thomas in Copenhagen on March 31, and the project has garnered a global audience.
The 20-foot tall statue, entitled "I Am Queen Mary," is the first-ever collaborative sculpture in Denmark to memorialize those who resisted and fought Danish colonialism. It now sits outside the West Indian Warehouse in the heart of the Danish capital. Among the media outlets who have taken notice are the New York Times, BBC, Hyperallergic, and Essence.
Belle and Ehlers said the project aims to create dialogue around the impact of colonialism on the present, and demonstrate how artists can be leaders in conversations about healing and justice. The temporary sculpture is the first step in an endeavor to raise a permanent bronze monument in the same location.
Although the figure of Queen Mary is "practically unknown" in Denmark according to Ehlers, she is no stranger to the Virgin Islands. Queen Mary is the most commonly referenced of the "Queens of the Fireburn," the women who lead the largest labor revolt in Danish colonial history, which took place on St. Croix in 1878.
A press release for "I Am Queen Mary" lays out the history:
"The Fireburn was an uprising against the contractual servitude that continued to bind workers to the plantation system after the 1848 abolition of slavery in the Danish West Indies. As its name suggests, this insurrection for better working and living conditions involved burning down most of Frederiksted town as well as sugarcane fields on a great number of St. Croix's plantations."
"Queen Mary, along with the other leaders, Queen Axeline 'Agnes' Elizabeth Salomon, Queen Matilde McBean and Queen Susanna 'Bottom Belly' Abrahamsson, were arrested after the Fireburn, and sent to Denmark in 1882 to serve prison sentences in Christianshavn's Women's Prison. Their sentences were later commuted and they were returned to St. Croix."
"Today, the Queens of the Fireburn are venerated in U.S. Virgin Islands cultural mythology."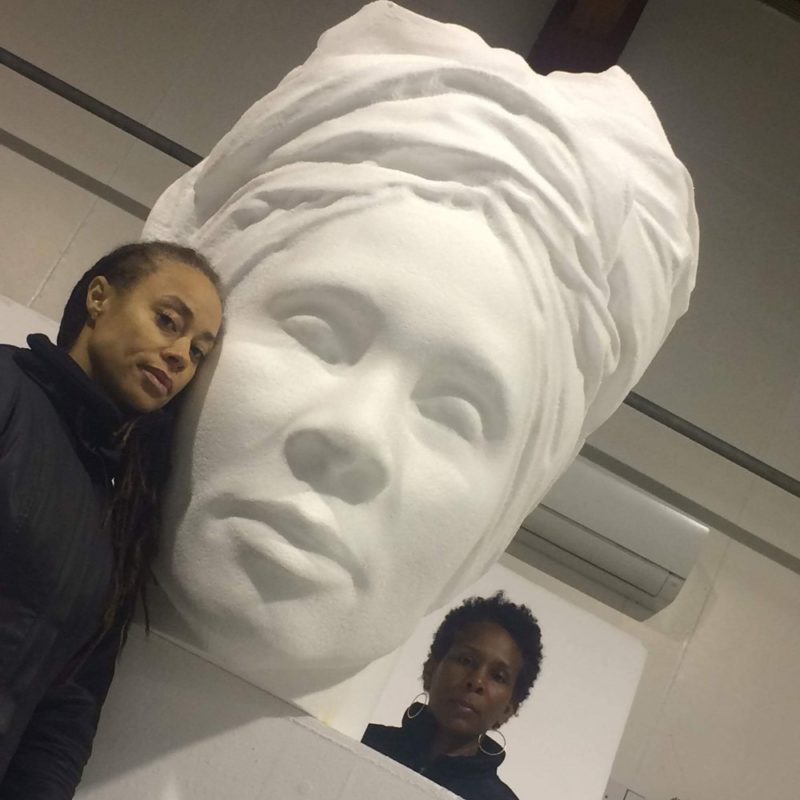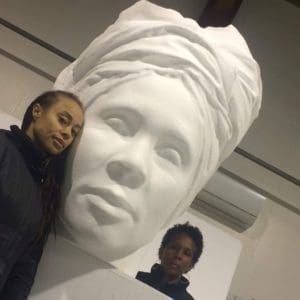 Belle and Ehlers originally conceived of "I Am Queen Mary" as a V.I. transfer centennial public art project. Both artists have been investigating themes of colonialism in their work for years, and both speak of their individual practices as working to shift historical narrative.
Due to some technical difficulties in launching the project, the unveiling of the sculpture was pushed to 2018.
"Actually, we like it that way," said Ehlers. "Now we can keep the conversation going. Nobody can say, 'well that was so much last year.' It's still going."
Ehlers said the centennial year, 2017, was important to her as an artist and person of color from Denmark, because it forced some needed conversations about the not always pleasant parts of Danish history. Projects like "I Am Queen Mary" challenge "Scandinavian colonial amnesia," Ehlers, whose father is from Trinidad, said.
"Last year really helped something with the conversation, but we are on a very low level still, and there's a long way to go," she said. "I really hope this will inspire people to think and to reflect on these issues, and to get some consciousness around coloniality, because that is definitely lacking here."
With conversations about the politics of public monuments currently at the center of a heated debate in the U.S. and elsewhere, "I Am Queen Mary" finds itself part of a movement. Ninety-eight percent of public monuments in Denmark memorialize white European men, the artists point out, and that can't possibly tell the whole story.
Much of the iconography and subject matter of Belle and Ehler's sculpture is grounded in histories of resistance. According to the artists, the torch and cane bill or cane knife in Mary's hands reference the strategies used by the colonized in their struggles for freedom. The seated pose recalls the iconic 1967 photograph of Huey P. Newton, founder of the Black Panther Party. The base of the sculpture incorporates coral cut from the ocean by enslaved Africans gathered from ruins of the foundations of historic buildings on St. Croix.
The figure depicting Queen Mary is a hybrid of the two artists' bodies created using 3-D scanning technology, a way for Belle and Ehlers to stake their position in relation to the history being memorialized. They say they hope others will do the same. There are no existing photographs of the Fireburn leader.
"For me it's really interesting to try and see what that means to physically embody a heroine, and that's why it was so important to name the sculpture 'I Am Queen Mary'" said Belle.
"It's identifying and claiming it in the same way that in Cuba they ask all the children to say 'Seremos como El Che' ('We will be like Che')," She said. "It's claiming it the way that at the end of Spike Lee's movie 'Malcolm X' in the last scene all the children stand up and say 'I am Malcolm X.' It's claiming it in the same way that, in a sanitation workers strike in 1968, they walked around with placards that said 'I am a man.'"
"It's speaking our humanity into existence," Belle said.
"It's also speaking to the Diaspora, to Black people worldwide," Ehlers added. "This will be a space for Black people in Demark to go and to see themselves represented in a positive way."
Belle, who has traveled frequently to Denmark in recent years, agreed that the sculpture speaks as much about the present as the past.
"It's also about what kind of relationship Denmark has with its current people of color, and the immigrants that are in Denmark," she said. "There are lots and lots of new laws that are being passed that are highly racialized and problematic."
"So what does it mean to have this two and a half story Black woman in the middle of the city? We're expecting some debate and some conversations about that," Belle said.
The site that was chosen for the statue is also important to the project, the artists say.
The West Indian Warehouse, which stored sugar, rum and other goods produced in Denmark's former Caribbean colonies, has a past linked to St. Croix, and an uncertain future. The building's fate is currently being decided in Denmark; it may be sold to developers, or the Danish government may determine it is important enough to be preserved.
"By placing the sculpture there it will help to really ignite a conversation about the significance of the building, the significance of that history, and to help the Danish government, and the Danish people on a larger scale, to challenge this idea that this history should be forgotten and is not significant to present-day Denmark," Belle said.
Belle said she knows that the way Queen Mary is portrayed in the statue is "a different way, especially for Virgin Islanders, of conceiving of who Queen Mary was."
Popular artistic representations of Queen Mary on St. Croix often picture the leader standing, engaged in action, and surrounded by her people.
Belle said some have questioned whether the seated, solitary Queen Mary references a more European vision of royalty.
"A lot of people have questioned are we speaking to a queendom in the European tradition, because she's a queen not by birth, but in the African-Caribbean tradition where she was given that title because she was a leader and what she did in the community."
Belle said the sculpture's form is actually "talking back to power in a way that power understands."
"I think that in many Caribbean traditions there is an importance placed on masquerading, finding ways to imitate and contest the colonial powers through imitation and transformation of their same symbols," she said.
Although there are no plans to bring the statue to St. Croix, Belle and Ehlers say they are not opposed to doing another version of the project in the V.I., one that poses different questions in a local context.
"I always say I think the Virgin Islands would require a different kind of sculpture," Belle said. "This piece is very much speaking to the context of where it is. I think there are of course other forms, and if we do try to do something in the Virgin Islands, I'd be interested in trying to push maybe the form a little bit."
Belle and Ehlers say the project has been transformative for them and that they've learned a lot about public art making, contemporary global politics, and themselves.
Belle said there is a spirituality to the project that is rooted in an African and diasporic way of seeing the world. She said she feels ancestral guidance brought together the two artists' on "very parallel but separate paths across the Atlantic."
"There have been many challenges. It has felt like an ordered task, meaning that we were meant to do this project. It was destiny to do this project. Bringing us together was ordered by the ancestors," Belle said. "That's not something, in the contemporary art world, that you talk a lot about. What's unique in coming from the African Diaspora is we know those things."
The "I Am Queen Mary" project is supported by SMK, The National Gallery of Denmark and the country's largest museum, and ActionAid, Denmark – an international development organization that fights poverty and injustice all over the world.
Additionally, "I Am Queen Mary" is supported by the Beckett-Fonden, the Danish Agency for Culture and Palaces, the Municipality of Copenhagen, the Wow Factory and 3D Printhuset.