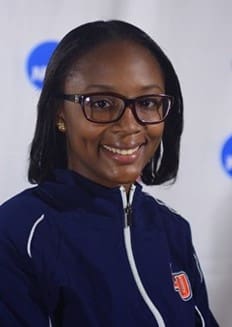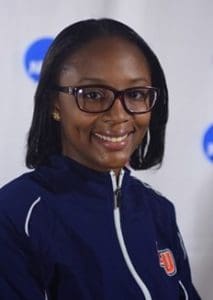 Krystahl Gordon, a Lincoln University women's track and field athlete, who hails from Frederiksted, Virgin Islands, has been named the Eastern College Athletic Conference (ECAC) Outdoor Track and Field Athlete of the Week for her performance during the week ending March 18.
Competing mostly against Division I athletes at the University of Maryland Invitational on Saturday, Gordon recorded two personal best efforts with top 10 finishes in both the long jump and the triple jump.
Gordon finished fifth in the triple jump, scoring four points with a leap of 11.13 meters (36′ 6¼"). Her distance in the triple jump was the longest by a Lincoln jumper since the 2013 outdoor season when Diane Lindsey jumped 11.22 meters. In the long jump, Gordon placed eighth with a jump of 5.27 meters (17′ 3½"), giving the Lions another point.
Gordon, who attended St. Croix Educational Complex, has been the Lions' top jumper this season, both indoor and now outdoor. During the indoor season, she earned ECAC Indoor Track Rookie of the Week honors twice.
The women's track and field team will return to action on Saturday, March 24, when they will compete at the Golden Ram Invitational hosted by West Chester University.
ABOUT THE ECAC
Established in 1938, the ECAC is the nation's largest conference, ranging in location from Maine to Georgia, and westerly to Missouri. The Eastern College Athletic Conference (ECAC) hosts numerous championships in men's and women's sports across Divisions I, II and III, offering opportunities for thousands of student athletes.
For more information, visit www.ecacsports.com.