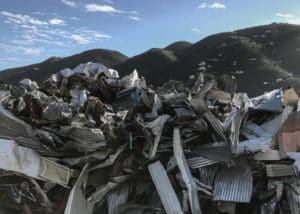 Current and former leaders of the U.S. Virgin Islands responded to the federal government's response to Hurricanes Irma and Maria in the latest legal filing in an ongoing case on U.S. territories' voting rights.
The case, Rosello v. United States, calls for the inclusion of an estimated 4 million U.S. citizens living in insular territories onto federal voting rolls.
Comments by Delegate to Congress Stacey Plaskett, former Delegate Donna Christensen and former Governor Charles Turnbull are included in a 25-page amicus brief submitted March 22 by a group formerly known as We the People.
That filing was submitted under the group's new banner — Equally American Legal Defense and Education Fund — by attorneys Neil Weare, Geoffrey M. Wyatt, Sam Levor and Marisa Van Saanen.
Plaskett, Christensen and Turnbull were joined in the brief by Delegate Madeline Bordallo and former Gov. Carl T.C. Gutierrez of Guam, and Delegate Kilili Sabln from the Northern Marianna Islands.
The viewpoints from V.I. representatives cover roughly six pages. The filing states that, "While the federal government has been a force for good in the Virgin Islands, too often the Virgin Islands face unequal treatment compared to other citizens."
Plaskett, Christensen and Turnbull also pointed to federal influence over the territory's tax policies, federal benefits and other spending programs as areas where U.S. citizens living in the territory are hampered by their inability to vote for the president or have full voting rights in Congress.
The role of the federal government in response to the impact of Hurricanes Irma and Maria, they said, has prevented Virgin Islanders from receiving assistance equal to that of those impacted by storms affecting the U.S. mainland in 2017.
"These setback invite closer scrutiny of the continuing denial of the rights of Virgin Islanders to fully participate in the national democratic process," the filing reads.
"As of November 2017, more than 33,000 individuals and families had applied for assistance from the Federal Emergency Agency (FEMA). And it will take a staggering $7.5 billion of federal support in order to rebuild. Thus, more than ever there is a sense of importance of federal decision making on the livelihoods of Virgin Islanders," the V.I. representatives continued.
Rosello v. United States was filed with the Inter American Commission on Human Rights in 2006. A campaign to have the case argued in court saw increased activity in 2017 with letters of support and an invitation for on-site investigation on Sept. 12, a filing of petitioner's observations regarding merits of their case on Oct. 3 and a petitioner's letter following up on case status on Feb. 9, 2018.