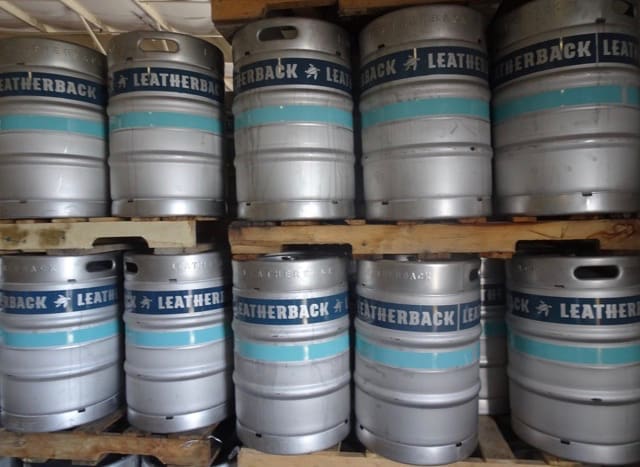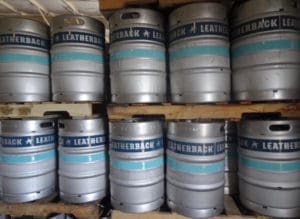 Three St. Croix men and a longtime brewer from Pennsylvania are brewing up some business in the Roebuck Industrial Park, just off the Melvin Evans Highway. They've got six shiny stainless fermenters and a big kettle ready to go for the launch of Leatherback Brewing Co.
Testing their brews now, partners Scot McChain, Aaron Hutchins, Packy Gilbert and John Giannopoulos plan a soft opening in April and a grand opening in May.
Leatherback beer has already surfaced on the big island, thanks to Sly Fox Brewing Company in Pottstown, Pennsylvania. The sister brewery shipped down 300 kegs of beer to sustain the new operation while it worked through setbacks related to Hurricanes Irma and Maria. The first batch arrived on St. Croix last November.
"We call it our 'hurricane beer'," said Aaron Hutchins, managing partner at Leatherback Brewing Company.
He and his partners have poured their lagers and IPAs for every St. Croix parade and festival since the 2017 Thanksgiving Jump Up, and 22 restaurants and bars already serve the beer.
"And that's just the start," said Hutchins, who intends to add another 12 fermenters to the works.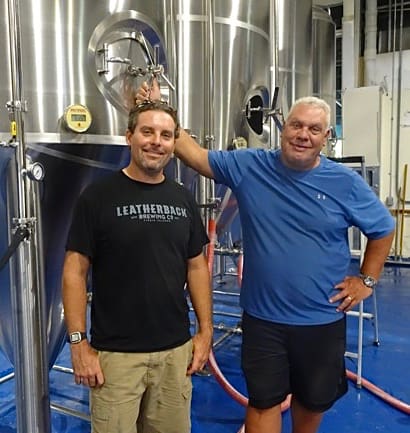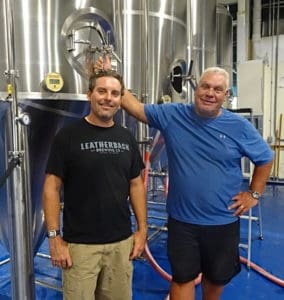 Meanwhile, the absence of power limits operations there at the Industrial Park site.
"We run on a generator and have a new one at Customs now," Hutchins said.
Paintbrushes in hand and carpenter tools in tow, the partners forge ahead.
By the 2018-2019 season, Leatherback Brewing Co. will offer a tasting room, finger foods, an indoor/outdoor bar, a family area, a back deck and patio with a sea view, a field for events, a conference room, and a visitor walkway that overlooks the huge fermenters and kettle.
Hutchins pictures fundraisers with a conservation bent, primarily around leatherback turtles. He envisions sports events and car shows. He plans to hold home brewing workshops and to expand into St. Thomas.
"But we'll walk before we run," said John Giannopoulos, the partner from Pennsylvania who has started a handful of breweries in the states.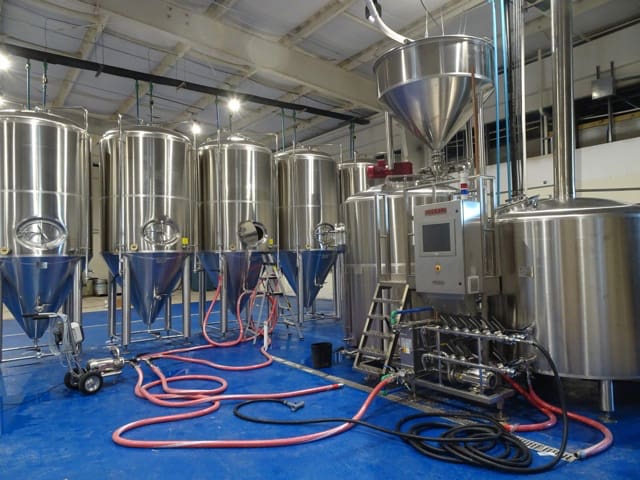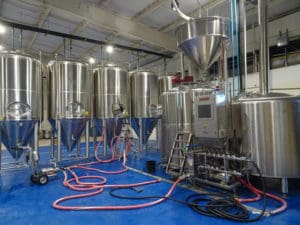 Aaron Hutchins, born and raised in Frederiksted, had "messed around" with home brewing and began exploring brewing operations with local attorney Scot McChain. The two developed a business plan. In late 2016, Packy Gilbert, who had lived most of his life on island moved home from Pennsylvania and caught wind of the brewery plans.
After a beer on the boardwalk with Hutchins, Gilbert signed on and then brought in John Giannopoulos from Sly Fox Brewing Co.
"Having someone in the industry vouch for you really helps," Hutchins said. "John became a partner; everything was green light."
The brewing operation lacked only a brewmaster, and Giannopoulos knew just the man – Dave Bronstein. A former brewer with Sly Fox who was making his own recipes at Forgotten Boardwalk Brewery in New Jersey, Bronstein was game. He moved his family to St. Croix, and his wife, Ivy Hunter, assumed the role of retail and marketing manager for Leatherback Brewing. She had worked in the brewing business for years. (Hunter now writes as a freelancer for the Virgin Islands Source, too.)
Mike Gilbert, Packy Gilbert's father, came home to lend a hand.
Although the company sourced out plumbing and electric work, the Leatherback team has rolled up its sleeves in every other realm of the brewery's construction. It self-distributes its kegs to venues around the island.
The brewery's 20,000-square-foot building can house 18 fermenters; permits are in place for the additional twelve. Each fermenter yields 60 kegs, or 400 cases, of beer. One keg equals half a barrel.
According to Giannopoulous and Hutchins, craft beer is independently owned and is all about ingredients: malt, hops, yeast and no adjuncts.
"We're going to have fun with it!" said Hutchins. "We'll source as much as we can in the Virgin Islands and with our neighboring islands."
Leatherback gets its malt from Germany and and its hops from Germany and North America. But Hutchins is eager to experiment with flavors such as local mangoes and passionfruit; he wants to try toasted coconut.
"Malt is the base part of beer; we'll add the flavors of the fruit into the kettle," said Giannopoulous.
"Like lemon grass, sorrel, and ginger – all the things that are common in bush tea," chimed-in Hutchins.
An environmental engineer and manager and an independent consultant, Hutchins has run the Nature Conservancy on St. Croix, as well as on Puerto Rico and in the BVI. He came up with and pushed hard for the name Leatherback.
"Having grown up on St. Croix, I've always known the leatherbacks were an endangered species," he said. "And these turtles always come home."
Hutchins likes that about leatherbacks; he came home himself.
"We're all about the outdoors. It's who we are as people and as a company," he said, adding that spent brewery grains make high quality animal feed.
Brewmaster Bronstein gives his spent grains to local farmers.
"We're trying to help them get back on their feet. Pigs can have a lot of grain in their diet, and cows can take up to 30 or 40 percent of their diet in grain," he said.
The Leatherback Brewing Company hopes to secure Economic Development Commission status and plans to hire locally.
Editor's note: This story has been edited to correct a date. The Source regrets the error.