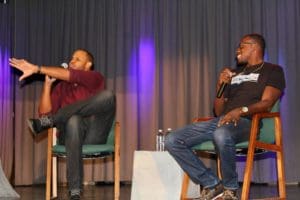 Miami-based author and journalist Peter Bailey has been awarded a grant of $37,500 from The Miami Foundation's U.S. Caribbean Relief Fund to continue his critically acclaimed NiteCap Live series throughout high schools in his native US Virgin Islands.
According to the the foundation's news release announcing the grant, the interactive talk show connects students with newsmakers in an entertaining yet educational format.
In the wake of Hurricanes Irma and Maria, which devastated the Virgin Islands and other Caribbean nations in September, this iteration of NiteCap will embody the theme of "Building A Better Virgin Islands."
"Our kids are very vulnerable right now. They need an outlet that offers inspiration as a means to begin the long and excruciating road to recovery." Bailey said. "The storms did more than destroy our homes. They threatened to kill our spirits as well. We can't let that happen."
The program has featured such figures as billionaire developer Don Peebles, 50 Cent, Fantasia and Janelle Monae, and educators on the islands were happy to hear the news.
"Peter Bailey provides a medium that gives a creditable voice and venue to the young people we serve in the Virgin Islands. 'NiteCap' is meaningful and relevant," USVI Education Commissioner Sharon McCullom. "The program brings contemporary issues to the forefront in addition to giving a forum to newsmakers that impact the younger generation we are attempting to bring into the fold to impact positive change concerning today's pressing issues."
Public school students in the territory have been attending split sessions as a result of many schools being severely damaged by the hurricanes.
Bailey said he's thankful Miami's residents have stepped up to support the U.S. Virgin Islands and the rest of the Caribbean.
Bailey was spending time with family in his native St. Thomas when Hurricanes Irma and Maria ravaged the island, forcing Bailey and his family to flee outside as the storms destroyed his family's home. He has become a national figure for his New York Times Op- Ed piece, which he wrote while building a makeshift roof.
Subsequent interviews that aired on CBS and other media outlets criticizing the U.S. government's handling of the islands' recovery went viral on social media.
Information on NiteCap is online at http://iampeterbailey.com.