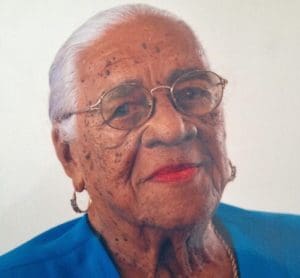 Claire Genevieve Motta, also known as "Claira," of Little Hospital Street, Christiansted, died on Feb. 8. She was 94 years old.
She is survived by her daughters: Marion Motta, Monique Motta and Myrta Boyd; sons: Lawrence "Eddie" Jr., David "DD," Kenneth "Kim," and Richard Motta; adopted son, Jimi Weber; and grandchildren: Duane, Tricia, Leah and Lawrence III Motta, Troy and Thaddeus Hendricks, David Jr., and Kevin Motta, Tashia, Tamara Motta and Yolanda Brannigan, Cecil Jr., David, Allan, Samantha and Wesley Motta, Robert Jr. Esq., Robyn, Ralph, Reno and Riis Motta, Shevonne, Richard Jr., Ronald, Amaya Motta and Evernie Ramos, Gregory "Kiko" and Kaj Miller, Jada and Mia Boyd.
She is also survived by 29 great-grandchildren; three great-great grandchildren; sister, Melba Biggs; brother, David C. Canegata Jr.; daughters-in-law: Mabel Cornelius Motta, Renee Dowling Motta and Geralyn Weber (adopted); son-in-law, Steven Boyd; and sisters-in-law: Carmen M. Canegata and Lois A. Canegata; nieces and nephews; the loving relatives of Canegata, McDonald, Weber and Biggs families.
Other survivors include special friends: Juan Hendricks, Helen Sterling, Ann Williams, Lorraine Motta, Lou Benjamin, Verna Garcia, Aileen Biggs, Gloria Canegata-Waterman, the Schjang family, the Roebuck family, Dr. Olaf Hendricks, Eric Quinton, Sheldon Simmonds, Annette O'Neal and family, Mae Delugo, and Belen Hodge; as well as other relatives and friends too numerous to mention.
There will be a viewing held at 9:30 a.m. followed by a funeral service at 10:30 a.m., Thursday, Feb. 22, at St. John Episcopal Church. Interment will be at Christiansted Cemetery.