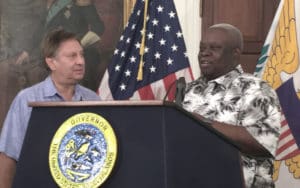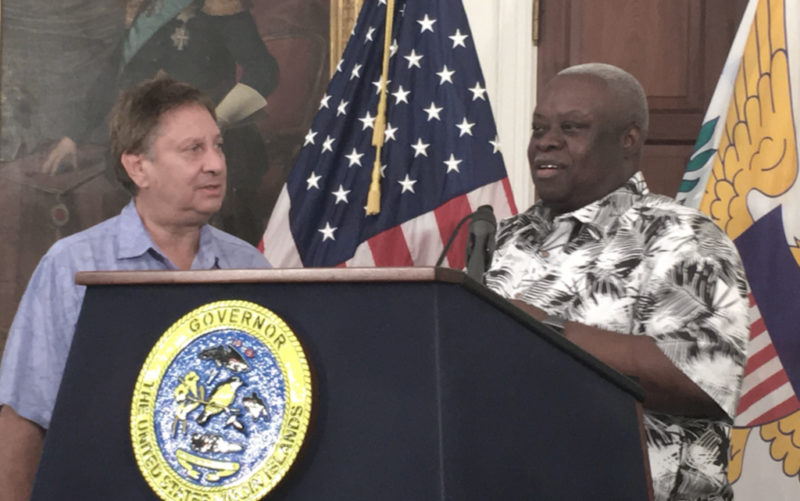 At a news conference Wednesday, Gov. Kenneth Mapp gave out checks of charitable hurricane recovery donation money to several private radio stations that operated during the hurricanes. JKC Family owner Jonathan Cohen accepted a check saying "radio will continue to be the lifeline" in disaster situations.
JKC owns WJKC Isle 95; The Mongoose 104.9 FM, Sunny 99.5 FM WVIQ,, Caribbean Country 93.5 WVVI and La Nueva Rumba 98.3 FM.
WSTX Radio AM 970 and FM 100.3, and The Reef 103.5 FM/1620 AM also received checks from charitable disaster recovery donations.
Mapp did not specify the amount of the funds. He did say the funds were from the disaster recovery fund managed by the Community Foundation of the Virgin Islands. Those funds are managed by the Hurricane Recovery Advisory Committee he created in October.
Private radio stations in the territory play a major role in political campaigns in the U.S. Virgin Islands, airing commentary, letting some candidates and officials host radio shows and airing large numbers of political advertisements. Mapp is running for governor this fall.
The Recovery Advisory Committee, which decides who will receive funds from these charitable donations, includes both V.I. and stateside figures. It is chaired by WICO Executive Director Clifford Graham, a former V.I. senator. A task force of some of the members makes the charitable donation decisions.
Other members include several Mapp administration officials, V.I. legislators, Mapp-allied commission and authority members and stateside figures. They include: U.S. Surgeon General Jerome M. Adams; Royal Caribbean President and owner Vivek Daswani; former EPA Regional Administrator Judith Enck; Andrew Farkas, founder, chairman and CEO of Island Capital Group, a real estate and merchant banking firm with significant interests in the USVI; and Anthony Hurley, associate managing director with Witt O'Briens, an emergency and security risk management firm.
Mapp also addressed the impending collapse of the Government Employee Retirement System. The pension plan has been projected to liquidate all of its investments and be unable to pay full pension checks by 2023. But the V.I. government has not provided its mandatory contributions in recent months and is $40 million behind since September. For that reason, Moody's Investor Services recently projected the collapse "will likely happen much sooner." (See "Moody's Says It's 'Highly Likely' V.I. Will Have to Restructure Debt" in Related Links, below.)
Of GERS, Mapp said he would "prioritize what we need to do to move the system to solvency." He did not provide any specifics. Mapp made fixing the GERS a priority in his 2016 State of the Territory address. Most analyses have found no clear path to restoring the system, barring a several-billion dollar cash influx in the near future.
Mapp administration officials projected last fall the territory was looking at around a $453 million shortfall for the current year, or roughly 50 percent of all local funding. Private lenders are unwilling to step in. But the administration had planned to lessen the impact with $300 million in federal disaster loans, this year. With $250 earmarked for budget support, that would have left a $200 million deficit.
But the federal government recently balked at the amount and has only sent $85 million, with $65 million for the government's budget. The administration is hoping to get more, if it can give the government "first lien" position on the territory's rum funds.
Asked how the government was going to bridge the gap, Mapp responded that "the revenues because of the recovery are bumping up." Mapp said that the federal government will continue to assess the territories growth to determine how much more funds will be released while the territory tries to increase its revenues through job growth and tourism. He did not offer exact numbers about how much they have "bumped up."
Mapp said that the federal government will continue to assess the territory's growth to determine how much more funds will be released while the territory tries to increase its revenues through job growth and tourism.
Other issues Mapp discussed included:
– Composite poles are going up in the USVI. Mapp said the difference between composite poles and regular poles is the cost of the pole itself, about $4,000 per composite pole compared to $300 to $400 for a traditional wooden pole. The difference is the durability. Composite poles are rated to withstand winds as strong as 200 mile per hour winds and can be tracked on a GPS system.
The composite poles are going up in different areas in order to increase the reliability of WAPAs distribution system during times of natural disaster.
The USVI is using $50 million of a HUD grant it received to harden WAPA's distribution system. This will include putting up microgrids.
– Feb. 28 will be the last day to put debris on the side of public roads in the four pre-determined piles. Anyone leaving debris on the side of public roads after this date will be ticketed for littering.
– The Emergency Home Repair Project, funded by FEMA, will devote $25,000 per home and plans to assist 12,000 to 15,000 in the USVI. The requirements to be eligible for this program include:
The home has to be the primary residence of applicant,
The applicant has to be the owner of the home,
The home has to have sustained hurricane damage from either Irma or Maria,
The applicant must have a FEMA registration number. This number can be obtained online at Disasterassistance.gov.
Most applicants who have been disapproved for FEMA assistance or SBA loans, or who have only received nominal amounts from these programs will qualify for assistance. Applicants can call 844-813-9191 or can apply online at www.ehrvi.com.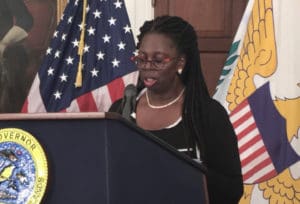 – A $5.2 million road project has been approved for work to be done from the Melvin Evans Highway to the Queen Mary Highway on St. Croix. Lanes will be widened, sidewalks will be put in and extra lanes will be added in some areas.
– Commissioner of Health Michelle Davis announced that the Emergency Prescription Assistance Program has been extended to March 1. The EPAP allows more than 70,000 enrolled retail pharmacies to process prescriptions for certain drugs, specific medical supplies, vaccines and some forms of durable medical equipment for eligible individuals in federally-identified disaster areas.
Individuals can apply by calling 855-793-7470.