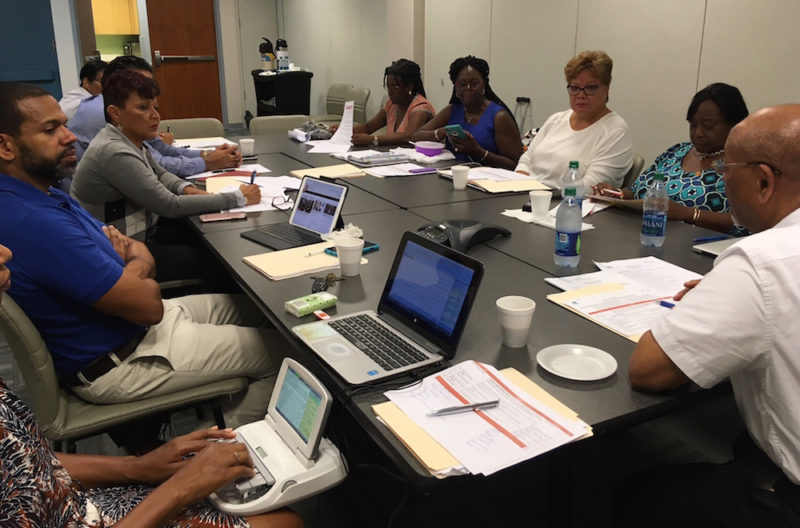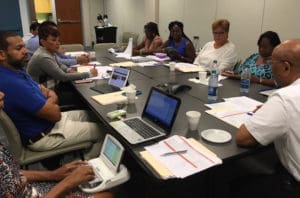 The V.I. Territorial Hospital Board struggled Friday with how the hospitals would manage with far less than expected from federal loans to rebuild after hurricanes Irma and Maria and also struggled to find ways to deal with uninsured patients and patients airlifted to the mainland.
In November, the board, Gov. Kenneth Mapp and V.I. Legislature approved applying for multi-million-dollar, low-interest community disaster loans through FEMA and the U.S. Treasury. Last month, Government House notified the Schneider Regional Hospital and Gov. Juan Luis Hospital they could expect $24 million and $22 million respectively – money to be used for operating expenses but not past due debt.
V.I. Finance Commissioner and hospital board member Valdamier Collins explained the territory's gross receipts taxes to secure the loans did not pass a portion of an initial bonds test so the loan amounts were approved for only $10 million for each hospital.
"We are working to get the amounts back up," he said, adding, "There is reason for hope or optimism."
Wanda Ruben, JFL's chief executive officer, told the board the St. Croix hospital will use most of the FEMA loan to pay invoices and payroll incurred after the September storms and to purchase supplies. Contributions will also be made to the Government Employees Retirement System and V.I. Water and Power Authority will be paid $1.2 million.
Ruben said they have had no word from FEMA regarding the assessment of damage to the hospital that might be covered by the federal government, nor whether the hospital will be repaired or require rebuilding. She said FEMA, in the meantime, will move the hospital into a temporary structure and she is applying for two trailers equipped with a dozen dialysis chairs.
JFL's emergency room, ICU and neonatal intensive care units are functioning, although there is a shortage of nurses, Ruben reported. All dialysis patients are being treated in Puerto Rico and on the mainland. There are no surgical or cardiology services available at JFL and critical patients are being transferred off-island; 73 patients have been airlifted since Dec. 31, Ruben said.
Bernard Wheatley, chief executive officer of the Schneider Regional Medical Center, said the St. Thomas hospital is waiting for FEMA and the Army Corps of Engineers' assessment of damage to the hospital and whether it can be repaired or must be rebuilt. He also told the board the hospital has been working to recover up to $6 million in funds owed for Medicaid patients.
Schneider is performing some emergency surgeries and has a functioning emergency room. Half of the hospital's admissions are through the emergency department, according to the CEO. Wheatley said there are three ER physicians but the hospital is trying to hire more. The cardiology and radiology departments, the laboratory and the dialysis unit are functioning and the facility has 51 beds available for patients and six in the ICU.
Health Commissioner Michelle Davis recommended Wheatley apply for a portable emergency room using the same process JFL is using to get portable operating rooms.
Both hospitals said they expect to lose millions of dollars this year. Patient census is half the pre-hurricane number and revenue enhancing elective surgeries cannot be performed. JFL's Chief Financial Officer, Deepak Bansal, said JFL is projecting losses of $23 or $24 million next year and Snider expects to lose more than $22 million in revenue.
Since the hurricanes, both hospitals have received visits from the Centers for Medicare and Medicaid Services (CMS). Wheatley said there was a complaint lodged against SRMC, and the federal agency responsible for reimbursing the cost of insured patients was "just a little concerned" about the resiliency of the staff and environment of care issues. The hospital's plan of action was accepted and Wheatley said there is no risk of decertification at this time.
Ruben said the CMS team that surveyed the St. Croix hospital also expressed concern about staff resiliency and had questions about infection control, but otherwise cited no significant defects.
The board held a long debate, indicative of the stress on the hospitals, about how to pay for air ambulance services for uninsured patients. According to Davis, FEMA is now paying $2 million a month for evacuees and probably won't continue after March. Ruben said the air ambulance services will not fly without the hospital's promise to pay. Complicating the situation is the inaction of the U.S. Congress and administration to set aside funds for disaster relief.
In the end, the board voted to have the executive committee research whether or not the federal government will continue to reimburse $18,000 to $30,000 cost for transporting a patient off-island. Board members also will collect documents necessary to satisfy FEMA and will solicit the local air ambulance companies for bids and estimates.
Board members attending the meeting were Chairman Nellon Bowry, Maria Tankenson-Hodge, Collins, Troy de Chabert-Schuster, Davis, Vera Falu, Cornel Williams, Philip Arcidi and Dr. Olivine Anne Treasure.