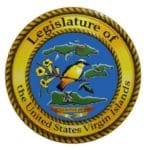 There is a new temporary location on St. Croix for operations of the Legislature of the Virgin Islands. The search for a centralized location has been an arduous task and after weeks of working out the details that would be suitable for the lawmaking body, it was decided to temporarily utilize the Hamilton House Building at 56 and 56A King Street in downtown Christiansted and the building at 36-C Strand Street, Christiansted, according to a press release issued Dec. 21, by Senate President Myron D. Jackson.
"In the wake of Hurricane Maria, senators on St. Croix have been meeting and working out of various random locations on the island in order to facilitate the needs of the community, and we apologize for any inconvenience that may have been caused," said Jackson.
The Legislature's facilities are being prepared to accommodate the general public beginning on Jan. 8, 2018, in both locations.