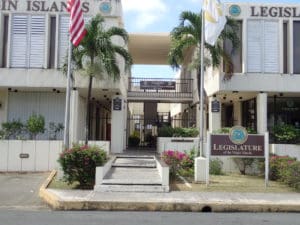 The Legislature approved a bill Friday intended to appropriate about $4 million to rent a temporary office for the Legislature on St. Croix and to build a new complex in Estate Golden Rock, near Christiansted.
The bill, sponsored by Sens. Myron Jackson (D-STT) and Nereida Rivera-O'Reilly (D-STX) ostensibly redirects money the V.I. government borrowed in previous years and dedicated to work on the Gov. Juan F. Luis Hospital. It takes $1 million re-appropriated in Act 7972 in January for air conditioning work and $3 million of loan money re-appropriated in Act 7993 in June for sewer work at the hospital. With the hospital condemned after hurricanes Irma and Maria, the work is no longer a priority.
Senators largely agreed on the need for a new St. Croix location for the Legislature.
"We know we need to find a new building … both temporarily and permanently," O'Reilly said.
"We need a temporary home for my colleagues on St. Croix. … Many of them have been getting sick over the past few months," Sen. Marvin Blyden (D-STT) said.
Jackson said the St. Croix building was badly infested with mold and the St. Thomas facility has mold too. He said St. Croix's St. Complex and the adjacent housing complex are on a "wetland" prone to periodic flooding as well as periodic sewage issues.
The bill cites those same issues and says the complex has been unusable since the recent hurricanes.
It specifies the new facility will be at Plot No. 20 Estate Golden Rock, Company Quarter, consisting of .83 U.S. acres.
Crewtex LLP is listed as the owner of the property, according to the V.I. Recorder of Deeds. Crewtex Managing Partner Kelley McCormick signed a $250,000 mortgage in 2012, secured by that plot and another parcel of land.
Sen. Alicia "Chucky" Hansen objected that there was space in the Human Services offices in Mars Hill, outside of Frederiksted, the Legislature might be able to use at less expense.
Voting for the bill were: Jackson, O'Reilly, Sens. Dwayne DeGraff (D-STT), Jean Forde (D-STT), Novelle Francis (D-STX), Neville James (D-STX) Positive Nelson (ICM-STX), Sammuel Sanes (D-STX), Janelle Sarauw (I-STT), Brian Smith (I-At-Large), and Kurt Vialet (D-STX). Voting no were Hansen, Sen. Janette Millin Young (D-STT) and Tregenza Roach (D-STT). Blyden was absent at the time of the vote.