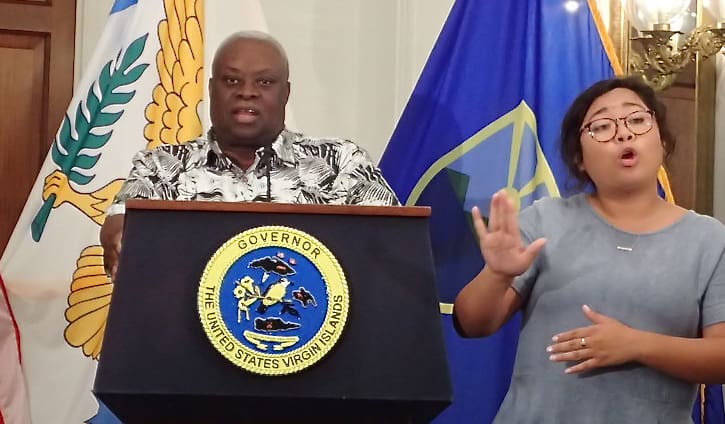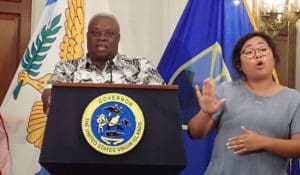 About 40 percent of the Water and Power Authority's electrical customers, more than 49,000 of them, have been re-energized since Hurricanes Irma and Maria battered the territory in September, officials said Monday at a Government House news conference.
Gov. Kenneth Mapp has set a target date of Christmas for 90 percent electricity, while Water and Power Authority Executive Officer Julio Rhymer's estimate was year-end, prompting Mapp to challenge, "I'm not giving him that extra week."
Gov. Kenneth Mapp updated the public Monday on disaster recovery after he spent the previous week in Washington, D.C., soliciting $7.5 billion in aid from members of Congress and the president's cabinet. He quoted White House Budget Director Mick Mulvaney as saying the Virgin Islands request was "most detailed and profound in its description of damages."
The V.I. request includes funds to rebuild the power grid, six schools and two hospitals as well as road and streetlight repair. The U.S. Department of Transportation has approved $6 million, half of which will be used to replace street signals with sturdier traffic lights at intersections, Mapp said.
FEMA and the U.S. Army Corps of Engineers are in the process of evaluating the hospitals to determine if the extent of damage warrants rebuilding or repairing the structures.
A congressional delegation is expected on Dec. 2 to tour the Gov. Juan Luis Hospital, according to the governor.
Mapp said now that he is back in the territory he plans to pressure the V.I. Waste Management Authority and Public Works Departments for faster debris removal. He will allow burning of vegetative debris if a plan is not presented this week by the agencies to create mulch and wood chips. Incineration of as much as 700,000 cubic yards of green debris will be monitored by the Environmental Protection Agency and the Army Corps of Engineers, Mapp said.
Other updates included:
– Tourism Commissioner Beverly Nicholson-Doty's announced that Delta Airlines will begin daily service to St. Croix from Atlanta on Dec. 21 through Jan. 6 and then four flights a week until the end of March. American Airlines will add a flight from Charlotte, North Carolina once a week beginning Dec. 6, she said.
– William Vogel, FEMA Region II federal coordinating officer, reported 49,585 power customers have been re-energized as of Monday by WAPA and more than 700 linemen from the continental United States. He added that 35,000 people have registered for FEMA assistance and 3,600 blue roof tarps have been installed. He also said 65 percent of the cellular towers have been restored.
"FEMA is here as long as it takes," Vogel said.
– Michelle Davis, Health commissioner, said she visited six of 15 V.I. medical evacuees in Puerto Rico last week and plans to meet with those in Atlanta in December. She reported "extremely positive" feedback from the patients and their families. Mapp said update press conferences may be scheduled twice a week in the future rather than three times a week.