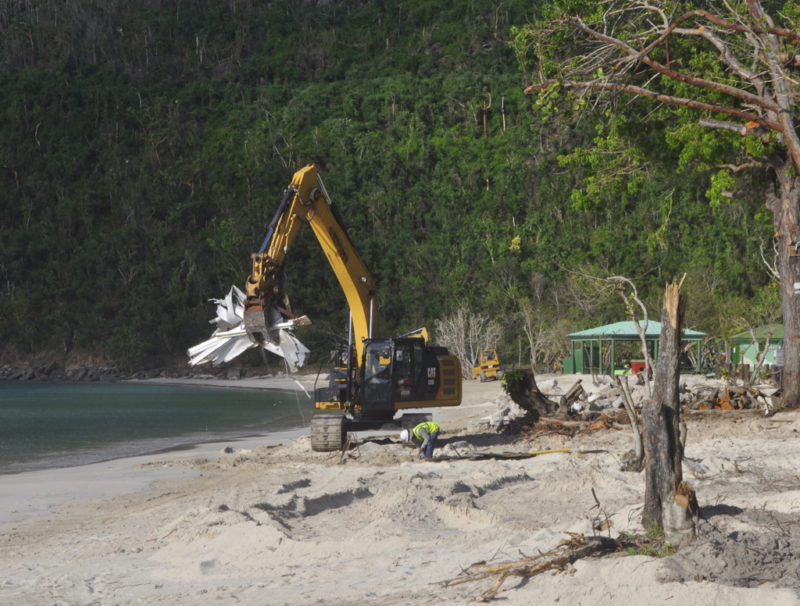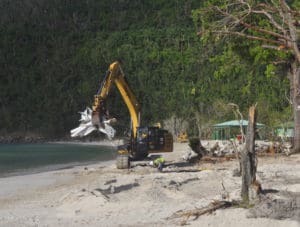 The cruise line company Royal Caribbean is giving a boost to clean-up and restoration efforts at Magens Bay, and the company hopes St. Thomas's most famous beach will be ready to receive the island's first batch of post-storm cruise guests in November.
During the one-two punch of Hurricanes Irma and Maria, surging waters carved a steep shelf across the length of Magens' once gentle slope. Lines of sea grapes along the shoreline were uprooted. Debris from toppled trees and the shattered concessions building, benches and bathroom were scattered across the beach and into the shallows of the bay.
"Magens is an iconic place," said Joshua Carroll, head of Royal Caribbean's regional recovery projects. "And it's an iconic place in one our most desired and satisfying ports. We want to make sure it's ready for our guests to return to, but also for the island, for everyone who comes and enjoys the beach here."
Royal Caribbean has partnered with the Magens Bay Authority, the autonomous instrumentality of the V.I. government that manages Magens, and local contractors, to meet a Nov. 10 deadline for restoring the beach to destination status. On that day, the company's 3,000-passenger Adventure of the Seas is scheduled to dock at St. Thomas.
Carroll said partnership between Royal Caribbean, the Magens Bay Authority and the V.I. central government has been "close-knit," with the cruise line operator, the world's second largest, picking up most of the bill for the Magens clean-up. The cruise line has largely taken direction from the authority regarding the work to be done on the beach, Carroll said, and all local permitting processes have been properly followed.
"We all have the same goals," he said. "And we've made a very concerted effort to ensure we are hiring locally and getting all the material we can locally as well."
One of the companies hired by Royal Caribbean to help restore Magens is Grade-All, a heavy equipment company that has been removing debris from the beach and smoothing down its sands.
Although the V.I. Department of Natural Resources says Magens Bay's water is safe for swimming, for now the beach is the domain of the rumbling patrols of Grade-All's equipment.
Eric Castro, Grade-All's president, said the scope of work at Magens has kept his 15-person crew, with a bulldozer, a backhoe and two excavators, busy from 7 a.m. to 5 p.m. every day.
"I was born and raised here, and I've never seen this beach look like this. In no hurricane," Castro said.
Grade-All has taken between 200 and 250 truckloads of debris away from Magens. By the time they arrived on the job layers of debris had already been cleared by the staff of the Magens Bay Authority and scores of volunteers.
"You look at it and say, well, it's just a beach. We've got homes and stuff, but still, you know, this is our beach," Castro said. "This beach brings a lot of money to the island. We need it."
Right now the beach itself, from the road to the waterline, remains the focus of recovery efforts. Restoring Magens Bay's popular five-acre arboretum, home to stately mature tropical trees as well as colonial and Amerindian archaeological sites, is "something for further down the road" according to authority board member Katina Coulianos.
"That's a big job," Coulianos said. "That and the coconut grove, a lot of that is down. The arboretum, we can't even get back there right now."
Saving damaged trees closer to the beach is a more immediate task for those hoping to welcome visitors back to Magens. For that, Royal Caribbean has hired the services of Heritage Tree Care, a company started by St. Thomas-based arborist Clay Jones.
Many uprooted trees have had to be removed from the beach. Jones said 80 to 90 percent of the sea grape trees closest to the shore were lost in the storms. Coconut palms suffered a 70 percent loss.
But about 90 percent of the beach's cedars and 100 percent of its mahoganies can be healed back to their pre-hurricane state with the proper care, Jones said. He and his five-member crew have been carefully trimming those living trees back to health since Oct. 21.
"Nature is what's going to rebound. It's going to be the thing that rejuvenates and makes this park beautiful again," Jones said. "We work alongside nature, just like any good doctor works with your body's natural ability to heal."
Heritage Tree Care will also work with a roster of Virgin Islands tree experts including Commissioner of Agriculture Carlos Robles, University of the Virgin Islands' Toni Thomas, and horticulturist Eleanor Gibney, to make recommendations on what trees to replant at Magens during the next phase of recovery.
Although the authority's second, smaller park, Smith Bay Park, sustained minimal damage in Hurricanes Irma and Maria, Coulianos said the Magens Bay park suffered so much damage that it is likely to come back as "a whole new Magens."
"Everything is so upside down now that you have to look at it in a different way," she said. "How we're going to manage it, I'm very curious myself. It's really an opportunity to look at things afresh."